PLEASE CLICK TO DONATE TO OUR SITE!!!!
Passions Best Moments
---
3/17/08 Ė 3/21/08
Monday
Theresa wasnít in the box that Juanita shot at on the pier.
After Juanita shot the box, the cop opened it. It was conveniently empty. Theresa managed to get out of the box.
No one saw Tabitha drop her sandwiches on the floor.
Speaking of Tabitha, no one at her house saw her use her magic to clean up the food she dropped.
While Theresa was running from Juanita, someone who was trying to sneak into the United States approached her.
Tuesday
Theresa conveniently made it to the train before it left.
Whoever was checking out the train managed not to see Theresa and Elena.
Julian let it slip that Ethan is really little Ethanís father, but he managed to get out of it.
Wednesday
Ethan didnít hear Rebecca and Gwen talking about making him forget about Theresa.
Theresa suddenly realized that the device the agent gave her had a volume button.
Ethan conveniently showed up on the wharf while Theresa was there.
Back to the Main Passions Best Moments Page
Back to the Main Passions Page
---
---
Buy Soap Magazines
Go here for great news & scoops, photos and in-depth articles!
Soap Opera Digest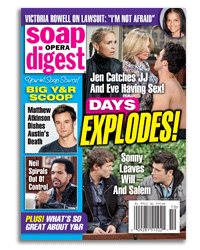 ---
---