PLEASE CLICK TO DONATE TO OUR SITE!!!!
Passions Best Moments
---
3/10/08 – 3/14/08
Monday
Pilar wasn't able to hear Theresa talking to her on the phone.
The agent watching Theresa saw her using the phone.
The agent told Theresa that the phone line was cut before she told Pilar about being alive.
Alistair and his henchmen conveniently kept Theresa's "death" out of the paper.
Sheridan showed up when Pretty was about to make Fancy hit Paloma.
Tuesday
Luis, Noah, and Paloma didn't see Pretty and Sheridan fighting over the implant device.
The agent knew that Alistair had cameras through Harmony.
The agent was going to grant Theresa permission to see her family.
The chip that was in Fancy's nose conveniently fell out once she started coughing.
Wednesday
Ethan conveniently showed up in Theresa's room while Gwen and Rebecca were cleaning it out.
Juanita and Theresa were conveniently near each other while they were sneaking around in Mexico.
The person that showed up while Juanita was on the wharf turned out to be a cop.
Juanita told the cop that Gwen was the one who helped her escape. Theresa was hiding in a crate on the wharf at the time.
Back to the Main Passions Best Moments Page
Back to the Main Passions Page
---
---
Buy Soap Magazines
Go here for great news & scoops, photos and in-depth articles!
Soap Opera Digest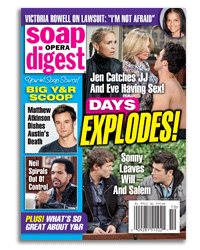 ---
---