PLEASE CLICK TO DONATE TO OUR SITE!!!!
Passions Best Moments
---
3/3/08 Ė 3/7/08
Monday
No one heard Gwen and Pilar talking at Theresaís memorial.
Noah showed up at the mansion just after Sheridan told Luis how he was back together with Fancy.
Ethan suddenly thought that little Ethan should be told about Theresaís death by his closest relative.
Luis called Fancy while she was in the shower.
Tuesday
Rebecca was the one who was in Theresaís room.
Esme didnít see Viki following her to Julianís office.
A shot of a body bag was shown when Ethan was talking about not having Theresaís body back in Harmony.
Wednesday
Fancy conveniently managed to get out of the mansion without Luis seeing her.
Ethan conveniently saw a couple on the wharf who had a baby.
When Theresa tried to use the phone to call Ethan to tell him she isnít dead, she was suddenly too weak to call him.
Ethanís phone rang just as he decided to start a life with Gwen. Theresa was trying to call Ethan in the previous scene.
The phone call that Ethan had was from his office.
Back to the Main Passions Best Moments Page
Back to the Main Passions Page
---
---
Buy Soap Magazines
Go here for great news & scoops, photos and in-depth articles!
Soap Opera Digest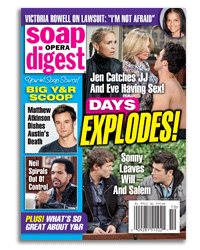 ---
---