PLEASE CLICK TO DONATE TO OUR SITE!!!!
Passions Best Moments
---
2/25/08 Ė 2/29/08
Monday
Sheridan was the one who was in Luisís room.
When Pilar was about to tell Ethan and Miguel the truth, Ethan interrupted her to ask about Gwen.
Miguelís phone rang when Pilar was allegedly going to tell the truth about Gwenís involvement in Theresaís death.
Juanita conveniently found out that Marty was in Mexico.
Tuesday
Pilar told Gwen that she was thankful that her grandchildren werenít in Mexico. Marty was in Mexico while she was telling Gwen what Juanita would do to her grandchildren.
Noah walked in on Tabitha and Kay while they were talking about magic, but he didnít hear them.
Luisís phone rang while Pilar was about to tell everyone how Gwen helped Juanita.
Wednesday
The babysitter that was watching Marty conveniently didnít remember what happened when Juanita hit her.
Julian started waking up once Vincent went into the pantry.
Juanita was hiding behind a crate on the wharf. When Luis, Ethan, and Miguel were looking for her, she made a noise while she was hiding.
Eve kept looking back at Vincent while she was talking to Julian, but Julian didnít see her do it.
Back to the Main Passions Best Moments Page
Back to the Main Passions Page
---
---
Buy Soap Magazines
Go here for great news & scoops, photos and in-depth articles!
Soap Opera Digest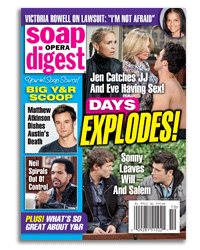 ---
---