PLEASE CLICK TO DONATE TO OUR SITE!!!!
Passions Best Moments
---
2/18/08 – 2/22/08
Monday
Noah was still laying on the scaffold when it fell.
Theresa was only fantasizing about the truth coming out.
Theresa was able to see Pilar and company on the wharf, but they didn't see her.
When it looked like Theresa was really with her family and Ethan a second time, she was only fantasizing again.
Kay and Tabitha were able to see Theresa's fantasy in the bowl.
Tuesday
Ivy claimed that she talked to Ethan while he was in Mexico.
Noah managed not to fall to the ground when the scaffold fell.
Ethan was able to "feel" Theresa near him. Her ghost was standing beside him.
Wednesday
Ethan, Miguel, and Luis saw Gwen when she was about to let Juanita go.
Pretty conveniently dropped the device that she uses to control Fancy's implant.
Marty conveniently knew what the device was when he saw it on the floor.
Back to the Main Passions Best Moments Page
Back to the Main Passions Page
---
---
Buy Soap Magazines
Go here for great news & scoops, photos and in-depth articles!
Soap Opera Digest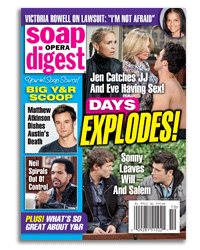 ---
---