PLEASE CLICK TO DONATE TO OUR SITE!!!!
Passions Best Moments
---
2/11/08 – 2/15/08
Monday
Kay didn't see the elf in the kitchen.
Theresa was conveniently near Ethan in the water when he called out to her.
There was someone conveniently standing outside of Esme's door.
Luis and Miguel's boat stopped working while they were going to look for Theresa.
Ivy ended up being the one who Sam was following at the mansion.
Tuesday
Viki was conveniently standing outside of the room where she attacked Ivy and no one saw her.
Ivy conveniently didn't see the person who attacked her.
The person Sam tackled ended up being Rebecca.
Wednesday
Ethan wasn't able to hear Gwen, Pilar, and Juanita talking and they weren't that far from him.
When Paloma was looking for her phone, she saw Noah's picture.
The scaffold that Noah was standing on to talk to Paloma ended up falling.
Back to the Main Passions Best Moments Page
Back to the Main Passions Page
---
---
Buy Soap Magazines
Go here for great news & scoops, photos and in-depth articles!
Soap Opera Digest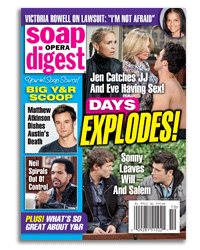 ---
---