PLEASE CLICK TO DONATE TO OUR SITE!!!!
Passions Best Moments
---
2/4/08 – 2/8/08
Monday
Theresa conveniently escaped from Juanita's hitman.
Theresa was able to sneak to Juanita's house without anyone seeing her.
Tabitha said that Kay's premonitions are about her family or friends.
Tuesday
Theresa was able to get away from the shark by hitting it.
Fancy didn't really remember what happened on the wharf with Noah.
Juanita and her henchman showed up in an area right after Luis, Ethan, and Miguel left.
Theresa conveniently dropped her watch at Juanita's house and Ethan found it.
Wednesday
Luis conveniently didn't see who shot the rocket at Pilar and Theresa.
Julian didn't see Vincent at Eve's house.
Julian only saw the alcohol that Eve had on the table.
Juanita conveniently wasn't able to see Pilar anymore because of the smoke so she couldn't shoot her.
Miguel showed up just as Juanita was about to shoot Pilar.
Vincent was able to change into Valerie before Julian saw him hiding in Eve's pantry.
Back to the Main Passions Best Moments Page
Back to the Main Passions Page
---
---
Buy Soap Magazines
Go here for great news & scoops, photos and in-depth articles!
Soap Opera Digest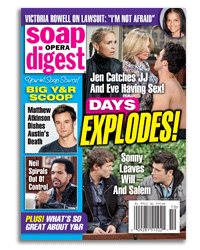 ---
---