PLEASE CLICK TO DONATE TO OUR SITE!!!!
Passions Best Moments
---
1/28/08 Ė 2/1/08
Monday
Theresa was able to get to her phone and break it before Juanita could get it.
Luis didnít hear Pretty talking to herself about plotting against Fancy.
Tabitha found the doll that Endora put the letter in, but she didnít open it.
When Noah and Paloma and Kay and Miguel were able to agree on a date for their wedding, they found out that the church was booked.
Noah and Paloma didnít see Endora use her magic to make a joystick appear in her hands.
The letter that Pilar wrote for Luis fell into the garbage.
Tuesday
Ethan didnít hear Rebecca and Gwen talking about Theresa.
Pretty conveniently knew that the implant device would make Fancy sexy and seductive.
Ethan didnít see Viki pull the knife out of her robe pocket.
Pilar was able to figure out Juanitaís code for her alarm.
Pretty conveniently dropped and found the knob on the implant device.
Wednesday
Juanita suddenly wanted to give Theresa and Pilar a nightcap. Thatís when she realized they were gone.
Pilar was able to knock crates over to keep Juanitaís hitman from getting to her and Theresa.
Viki was able to hide behind the tarp after she stabbed Rebecca without being seen.
Viki conveniently bumped into a paint can and knocked over a brush when Sam was looking for the stalker.
Someone called Ethan and told him that Theresa and Pilar were in Mexico.
Back to the Main Passions Best Moments Page
Back to the Main Passions Page
---
---
Buy Soap Magazines
Go here for great news & scoops, photos and in-depth articles!
Soap Opera Digest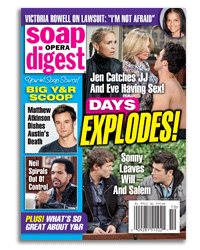 ---
---