PLEASE CLICK TO DONATE TO OUR SITE!!!!
Passions Best Moments
---
1/14/08 Ė 1/18/08
Monday
Kay was conveniently in the kitchen when Tabitha used her magic.
Fancy conveniently showed up at the cottage because she and Luis had a date. Luis went out to play hockey with Marty.
Fancy bought Luis hockey tickets before the New Year. That was convenient that she managed to get them considering they broke up during that time.
Tuesday
Pilar found out that Theresa was in Mexico because someone called and said that she (Theresa) left her camera bag on the plane.
Pilar called Theresa just as she was about to burn her familyís picture.
Viki conveniently found the knife that Alistair had hidden by the side of the fireplace.
Ethan and Esme didnít see the knife that Viki dropped on the floor.
Wednesday
Luis, Fancy, and Marty were conveniently on TV while Sheridan was watching it.
Miguel didnít hear Tabitha talking about getting revenge on him.
Miguel left his music upstairs and that made it possible for Tabitha to use her magic to cook dinner.
Theresa conveniently left the picture of Pilar and Juanita on the floor after she bumped into Juanita.
Back to the Main Passions Best Moments Page
Back to the Main Passions Page
---
---
Buy Soap Magazines
Go here for great news & scoops, photos and in-depth articles!
Soap Opera Digest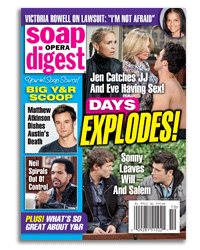 ---
---