PLEASE CLICK TO DONATE TO OUR SITE!!!!
Passions Best Moments
---
1/7/08 Ė 1/11/08
Monday
Ivy showed up at the Blue Note while Ethan was talking about Theresa.
Jessica was suddenly at the Bennett house with her baby.
Everybody knew that Jessica was pregnant. Not too many people knew about the baby before she left.
Spike knew to show up at the Bennett house to find Jessica and the baby.
Sam managed not to see Spike in his house. He was only reacting because he thought Jessica looked so much like Grace.
Tuesday
The airline called the cabin about Theresaís ticket to Mexico.
Theresa said she was planning to take little Ethan to the Boston Red Sox spring training.
Now that we know who is killing Esmeís dates, Viki is conveniently flashing back to being the killer.
Gwen told Ethan that they are still married.
The fact that Gwen didnít tell Ethan that she was pregnant was enough to make their marriage null and void.
Pilar didnít hear Theresa tell little Ethan that she was going to Mexico. She only heard Theresa say to ďkeep this hush hush.
Wednesday
Sam didnít see Viki in Alistairís room.
Alistair woke up and caught Viki after she injected his I.V.
Ethan was conveniently standing outside of Alistairís room after Alistair told Viki to kill Ethan.
Back to the Main Passions Best Moments Page
Back to the Main Passions Page
---
---
Buy Soap Magazines
Go here for great news & scoops, photos and in-depth articles!
Soap Opera Digest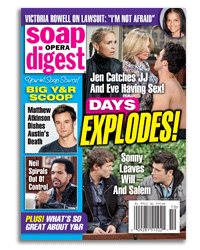 ---
---