PLEASE CLICK TO DONATE TO OUR SITE!!!!
Passions Best Moments
---
12/31/07 Ė 1/4/08
Monday
Esme managed to hear about Marty being back in Harmony.
Esme suddenly wanted to be with someone evil.
Little Ethanís fever went up while Theresa was out with Ethan.
Little Ethanís fever broke when Theresa went back to the cabin.
Someone managed to get in touch with Pilar to tell her that her nephews were killed.
Luis wasnít at the Blue Note when Fancy came out of the bathroom.
The note that Luis left for Fancy ended up on the floor.
Tuesday
Pre-empted
Wednesday
Ethan showed up at the cabin and was waiting at the door when Theresa opened it.
Rebecca conveniently knew what happened between Ethan and Theresa at the Blue Note.
Esmeís stalker knew to find her and Alistair in the library.
Thursday
Sam suddenly wanted to arrest Alistair for Chadís death.
Sam knew to be at the mansion when Alistair was stabbed.
Gwen was able to keep Ethan from looking in little Ethanís room.
Kay claimed that the Standish women were the only ones who are witches.
Back to the Main Passions Best Moments Page
Back to the Main Passions Page
---
---
Buy Soap Magazines
Go here for great news & scoops, photos and in-depth articles!
Soap Opera Digest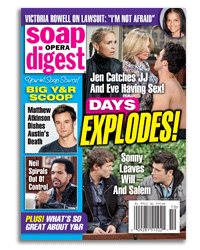 ---
---