PLEASE CLICK TO DONATE TO OUR SITE!!!!
Passions Nitpicks & Flubs
---
Here are the nitpicks and flubs we found this week on Passions:
4/4/05
Monday
If Gwen didn't want to stay with Katherine at the Compound, then she shouldn't have went on the plane with her.
Theresa and Paloma switched sides in Pilar's kitchen on Friday. Theresa was on the left and Paloma was on the right, but they switched sides.
Theresa lectured Luis about forgiving Martin as if Ethan didn't have to talk her into forgiving him.
Luis didn't notice how Theresa was walking.
Alistair was talking to Fox, Katherine, and Gwen so how did he know that someone was outside of Sheridan's cottage?
Tuesday
If Whitney didn't want to be a single mother, than she could have married Fox.
Why didn't anyone stop Whitney, Chad, and Ethan from yelling in the hospital?
Beth's hair looked different in her flashback than it did when she was talking to Sheridan.
Why would Gwen try to defend Katherine when she wanted to turn her in to the police?
Once again Katherine forgot about Julian when she was talking about leaving Sheridan and Martin.
Wednesday
How come the nurse who gave Whitney the gift basket didn't give Theresa one too?
In Tuesday's episode, Whitney was still in the hospital bed and Chad was on the phone outside of her room, but in this episode she was dressed and he wasn't near the room.
Gwen didn't have any bruises on her arms from Alistair's grip on them.
Who did Monique knew to have a bathing suit with her to swim with Fox?
It shouldn't have taken Sheridan so long to wake up from a punch.
Thursday
Why did Ethan have to change his clothes just to get on a plane?
Sheridan's hair was different from how it was in Wednesday's episode.
Why would Ethan fantasize about Theresa when he was just talking about staying with Gwen?
What happened to the scars that Jessica had on her face?
Why would Ethan tell Kay where he was going and not Ivy?
Friday
Theresa was able to move around without her cane.
Why couldn't TC and Liz tell that Whitney wasn't pregnant anymore? She should have had to tell them that she had the baby.
Whitney didn't have to let TC think that Eve purposely didn't tell him that she had the baby.
How did Ethan know where to find Katherine and Gwen? Fox didn't get a chance to tell him where they were.
Back to the Main Passions Nitpicks & Flubs Page
Back to the Main Passions Page
---
---
Buy Soap Magazines
Go here for great news & scoops, photos and in-depth articles!
Soap Opera Digest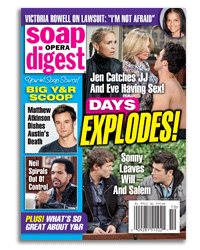 ---
---