PLEASE CLICK TO DONATE TO OUR SITE!!!!
Passions 2004 Nitpicks & Flubs
---
Here are the nitpicks and flubs we found this week on Passions:
9/5/04
Monday
It was obvious that Tabitha only looked at the TV to keep the audience updated because of the break.
It's only been one day, but Endora looks a lot bigger than she was before the break.
The powers that be should have cast someone younger looking to play Theresa. This actress looks too old for the role.
Since it's not that loud in the jungle, Luis should have heard Sheridan calling him. She was screaming so loud so he should have heard her.
Martin didn't seem too worried about Luis being hurt when the Aztec temple fell on him.
Since Fox knows that Alistair is capable of lying, you would think that he wouldn't believe that Alistair was telling the truth about Chad.
Martin saved Sheridan from the rubble, but he didn't try to save Luis.
Tuesday
Priscilla didn't look as far along as Lindsay did before she left the show.
Why did Gwen start thinking that she and Theresa were friends? There has been too much water under the bridge for that.
How much time went by at the beginning of this episode because Chadney were having the same conversation, but Theresa was already at the Crane mansion.
Julian only seemed to care about how Eve would react to Chad being their son than he did about Whitney and Chad's feelings.
Since Whitney has such strong opinions about honesty, why didn't she tell Chad about being pregnant?
Now that Whitney is pregnant, Chad suddenly doesn't want to have kids right away.
TC's shed looks so much bigger now than it did before. It didn't look big enough for a car, but now there's extra room in the shed.
Wednesday
Whitney would have told Theresa that she is pregnant before telling Chad.
Alistair was just talking to Julian this day, but he was suddenly in Mexico.
Julian needs to have TC arrested so that he can stop beating him up.
Fox knows that Chad needs to know that he is Whitney's brother, but he wouldn't say anything.
Why were Katherine, Martin, and Sheridan's clothes so clean while they were in the jungle? They should have been dirtier than they were.
The guide told Alistair that he led KMart and Sheridan so deep in the jungle that they wouldn't find their way out, but it didn't take long for the guide to find his way out of it.
Thursday
Kay was speared and she was being released a day or two after going in to the hospital.
Jessica hadn't visited Kay in the hospital, but she knew to be there when Kay was trying to come up with a plan for Simone to get Chad.
Whitney is Theresa's best friend, but she didn't even offer to help Gwen plan an engagement party for Whitney and Chad.
Since Eve's secret was only revealed to her family and a few others, who would have told a reporter about it?
The DJ that Simone mentioned works at WJER, and those are the head writers initials (James E. Reilly). Was that a coincidence or an inside joke?
After TC found out that Eve was the one who hit him with Julian's car, Eve expected him to just believe that she didn't take hush money from Alsitair.
Friday
Eve said that she was going to tell Whitney about hitting TC with Julian's car, but she didn't mention telling Simone.
Martin gave himself away again about knowing Alistair (he said he knew the tour guide worked for him). Of course Sheridan didn't pick up on it. There's no way he would have known that without knowing Alistair.
Eve said that she implanted Gwen's eggs into Theresa, but she wasn't the one who did it.
Why was Nick obsessed with raping Paloma? She's only a kid.
When Gwen was choking Theresa, you could clearly see how she wasn't choking her.
Theresa didn't have print marks on her neck when Gwen choked her.
Since Eve used to be an alcoholic, you would think that she wouldn't have had alcohol in the house.
Fox is talking to Theresa as if he's mad at her. That wasn't the way that he talked to her before.
Martin wanted to risk his life to help Sheridan, but he didn't want to do that for Luis.
---
Back to the Main Passions Nitpicks & Flubs Page
Back to the Main Passions Page
---
---
Buy Soap Magazines
Go here for great news & scoops, photos and in-depth articles!
Soap Opera Digest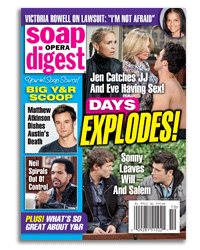 ---
---