PLEASE CLICK TO DONATE TO OUR SITE!!!!
Passions 2004 Nitpicks & Flubs
---
Here are the nitpicks and flubs we found this week on Passions:
8/14/04
Monday
Tabitha changed her clothes again in this night.
Why did Gwen give Eve permission to stay at the Crane mansion when it's not her house?
Once again Katherine had her shawl wrapped around her neck.
Kay wasn't hooked up to the machine anymore.
Kay was not wearing a hospital band on her wrist. Patients are supposed to wear hospital bands.
Visiting hours at the hospital should be over, but Tabitha and Simone went to see Kay again.
Alistair must be paying Nick (the henchman) by the hour because he's taking so long to kill everyone in Mexico.
How deep a sleeper is Paloma if she didn't hear Sheridan and Luis talking in her room?
Kay seemed more upset about losing Miguel than she did about not having any more children.
Tuesday
Fox had his wallet in the pool room at the Crane mansion. He was at home so why would he have it there?
TC said that Eve thinks she's too old to have more children, but she said that she couldn't have anymore kids.
Since Paloma's name wasn't at the door or window, how did Nick find her room?
How did Ethan know the way Fox used to be when they didn't grow up together?
Why did Ethan forget that Fox already has a threat to Crane Industries? Does little Ethan ring a bell?
TC didn't think that Liz was coming on to him out of revenge.
Wednesday
Fox was in the pool at the mansion, but he wasn't wet.
Pilar wasn't hooked up to her monitor anymore. It's the same night when she was hooked up to the monitor.
The writers didn't supply music for TC and Liz when they were together, but there was music for Julian and Eve.
Did Eve really want to be with Julian? She had a pained look on her face when they were kissing.
Martin said that he and Luis had to go back to the hotel to get flashlights, but why didn't they do that before they left the hotel.
Little Ethan didn't wake up when Theresa was in pain, but Ethan, Gwen, and Rebecca heard her.
Eve and Julian must have been making a lot of noise at the mansion since TC and Rebecca knew what room they were in.
Thursday
Now that the identity of Evian's child will be revealed, Eve was suddenly dreaming about him.
When did Eve, Whitney, Chad, and Fox take a picture together? How many of the pics did they take because Chad and Fox had the same picture?
Martin took the time to get a haircut. As usual, no one made reference to it.
Since Rebecca can't blackmail Julian about Eve's past anymore, is she still allowed to stay in the mansion?
Gwen was supposed to get Eve to help with Theresa, but she was with Julian.
Why didn't Eve push a button on her phone to answer it? She pushed a button on it to hang up the phone.
Friday
Eve and Gwen didn't make sure that Theresa had ultra sounds.
Pilar asked Theresa before how she could give her child away, but now she's telling her to give the baby up. Which is it going to be?
If Whitney was sick for three days, how come she didn't say anything sooner?
Katherine was able to find the exact spot that Sheridan was in, but Sheridan couldn't find Luis.
Julian didn't think that Alistair could have lied about the name of his son with Eve.
---
Back to the Main Passions Nitpicks & Flubs Page
Back to the Main Passions Page
---
---
Buy Soap Magazines
Go here for great news & scoops, photos and in-depth articles!
Soap Opera Digest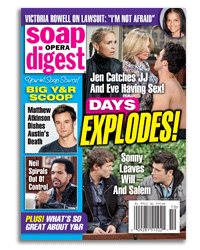 ---
---