PLEASE CLICK TO DONATE TO OUR SITE!!!!
Passions 2004 Nitpicks & Flubs
---
Here are the nitpicks and flubs we found this week on Passions:
8/7/04
Monday
If Ivy felt bad for Eve, then she could have told TC that Liz is Eve's sister.
Sheridan doesn't have a relationship with Julian, but she was telling him about how he was talking to Paloma.
Did Sheridan forget what she and Luis went to Mexico for? They were supposed to go get Paloma, but Sheridan practically blamed Luis for why Paloma lashed out at him. Who's side is she on?
Theresa's stomach looked smaller in this episode than it has in other episodes.
Why didn't Ethan make Theresa sign a contract to make sure that Theresa give him and Gwen the baby back?
Tuesday
Maybe Gwen should suggest to Ethan that he get a cat scan if he thinks that Theresa's intentions are really honorable.
Katherine said it was the other day when Sheridan called her mother. It is the same night that she and Luis arrived in Mexico.
Eve could stand up to Liz, but she let TC yell at her.
How did Theresa get her things without going to the Russell house?
Wednesday
Why didn't Pilar want her other children to go to private school, but she wanted Paloma to go to one?
Luis must be a quick-change artist because he was dressed in his first couple of scenes, but by the next scene he was dressed differently.
Luis wasn't thinking about Martin and now all of a sudden, he's talking about him all the time.
Why do the Russells have the same picture of themselves all over the house? Is that the only picture that they've taken of each other?
Why was Fox the one cleaning up the Russells' kitchen? He doesn't live there.
When Luis was little, he didn't call Martin "puh pah", but now he does.
The kid that was playing Luis has a mole on his face, but Luis doesn't have a mole now.
Thursday
Why did the writers waste our time with Martin's confession when it was an obvious fantasy?
Liz said that Irma went to take a nap, but when did she do that?
What time is it in Harmony? Everyone is acting as if they haven't been up for hours and hours.
We find it hard to believe that Alistair gave jobs to people or donated to charities.
Katherine doesn't know how she wants to keep her shawl because it kept changing so much. She would have it on one shoulder and then it was on both shoulders. It was also off of her shoulders completely.
The scar that Martin had was different from how it looked when the imposter was on the show. The scar wasn't on his arm. It was on his ear.
How did Sheridan know that Ivy broke up Sam and Grace? Who would have told her that?
Friday
The scar on Martin's arm looks like a fresh one. It should look older if he got it years ago.
The song Eve was singing must be very long since she was singing it since Thursday.
Why does Chad keep asking Fox to watch Whitney? It's not as if she's a baby.
Chad told Whitney that the Blue Note is in a bad area, but it's not the first time that they've been there. Now that he's been constantly leaving Whitney alone with Fox, Chad is suddenly worried about the neighborhood.
TC must have forgot that he was addicted to drugs when he told Eve about being on drugs.
---
Back to the Main Passions Nitpicks & Flubs Page
Back to the Main Passions Page
---
---
Buy Soap Magazines
Go here for great news & scoops, photos and in-depth articles!
Soap Opera Digest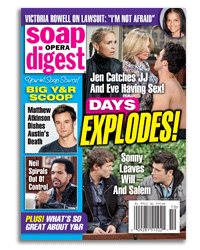 ---
---