PLEASE CLICK TO DONATE TO OUR SITE!!!!
Passions 2004 Nitpicks & Flubs
---
Here are the nitpicks and flubs we found this week on Passions:
7/23/04
Monday
Why was Eve telling Julian so much about Pilar's condition since he's not her family member?
If Eve wasn't on duty, why was she still at the hospital?
Sheridan would have left Harmony and left her door open to the cottage.
Sheridan's car door was open when she started the car, but it was closed when the car exploded.
Luis didn't have enough time to pull Sheridan from the car.
Alistair was watching Sheridan's car when it exploded so he should have seen Luis take her out of the car.
What was Sam doing at the Crane mansion? Lucky for Shuis that he just happened to be there when her car exploded.
Eve told Julian that she lied of omission to TC. She must have forgotten that she lied to TC about miscarrying her first child.
Tuesday
We thought that children under 12 weren't allowed to go into the hospital.
Why would Theresa want Ethan and Gwen to wake little Ethan just to see him? It is late and he should have been sleep.
Luis only cared that Alistair could go after Sheridan. What about his son as well as his family? He could go after them too, but he only cared about her.
Eve didn't have a picture of Simone on her desk.
Why wasn't Luis as dirty as Sheridan was from the explosion?
Why was Whitney pressing Theresa to tell Gwen the truth about her baby when she is not supposed to be stressed out? Whitney was probably stressing her out more.
How did Luis get the money to buy the plane tickets to go to Mexico?
Wednesday
What made Luis think that a scarf, hat, and glasses would make him and Sheridan look any different.
Why was the door in TC and Eve's kitchen sitting open? Anyone could have walked in their kitchen.
Irma called "Days of Our Lives" "Days of Our Live." If she watches the show, then why did she say it wrong?
What kind of nurse couldn't tell that Kay was using ketchup as blood on her gown?
Sheridan and Luis weren't wearing the bandages anymore. Also, they didn't have any cuts or bruises from the explosion.
Thursday
Luis bought the tickets at the last minute so how did Alistair's henchman get one?
Charity was gong to leave Harmony without saying bye to Sam.
Speaking of Charity, why would she miss Ivy considering what she did to Grace?
How old was Paloma when Pilar sent her away if Luis didn't get to know her?
McKenzie Westmore must have lost one of her fake nails between yesterday's episode and this episode because her nail on her first finger was different from the others. It wasn't manicured like the rest of them.
Friday
Why was Simone just now going to see Kay?
How did Alistair's hit man know to have a gun in a locker at the airport in Mexico?
Martin and Katherine look the same after their surgery so there was no reason why Luis and Sheridan couldn't recognize them.
When did Kay have time to get a new hairstyle?
The Russells' window was wide open, but no one in the house heard Alistair's phone ringing.
---
Back to the Main Passions Nitpicks & Flubs Page
Back to the Main Passions Page
---
---
Buy Soap Magazines
Go here for great news & scoops, photos and in-depth articles!
Soap Opera Digest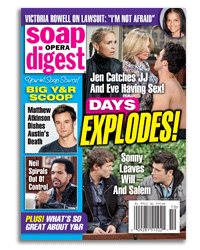 ---
---