PLEASE CLICK TO DONATE TO OUR SITE!!!!
Passions 2004 Nitpicks & Flubs
---
Here are the nitpicks and flubs we found this week on Passions:
1/1/05
Monday
Why did Gwen and Theresa take so long to open their envelopes? They wanted to know who the mother is so why didn't they rush to open them?
Why did Edna walk passed Norma instead of walking in another direction?
Why didn't Tabitha, Rebecca, and Edna go out the front door when Norma was down?
Theresa didn't have a gift for little Ethan so how did Whitney get it? Theresa didn't even mention how she had a gift for little Ethan.
Why didn't Whitney give little Ethan's present to Gwen and Ethan? She saw them at the church. She could have given it to them.
Why didn't Whitney and Fox go to the hospital with Theresa?
Since KMart went to the hospital to be there for Theresa, why did they go to Alistair's room?
Here's a surprise. Sheridan's hair was different from how it looked before.
What happened to the guard that was sitting outside of Alistair's room? Two suspects in his attempted murder went into his room.
Rebecca left her bags at Tabitha's house.
Tuesday
How did Simone know that Whitney is pregnant? They haven't been talking to each other so who told her?
When has Whitney been living with Fox?
Pilar said that the family lost Paloma, but she seemed to want to talk to them the last time she was shown.
Why would Luis want to invite Rebecca to the wedding considering what she did to the family?
Why would Luis make Ethan his best man and not Hank or Sam?
Why would Sam leave the police file on the desk when he walked away from Rebecca? Of course she would have tired to look at it.
Wednesday
When did Sheridan have time to get her hair done?
Why did Sheridan have Kay and Jessica in her wedding? She doesn't talk to them that much.
How did Ivy know to be at the hospital with Ethan and Gwen?
How come Eve didn't notice how her ID was gone?
Thursday
Why does Eve keep threatening Liz in front of people? If something does happen to her, then Eve will be a suspect.
Sheridan was looking at the card, but she only reacted to a stain on her dress.
Sheridan didn't have a spot on her dress before, but she had it on her dress when she reacted for nothing.
Theresa didn't want Ethan to see the baby before, but now that she knows that she's the baby's mother, she'll let him see her.
Why was it okay for two people to see the baby when only one was able to see her before?
Friday
Tabitha said it was New Year's Eve, but it's the same day that Shuis were getting married. It should still be December 26th.
TC doesn't like how Sam wanted to know if Liz provoked Eve, but he had no problem telling Sam not to be with Ivy.
Julian warned Eve about threatening to kill her sister as if he didn't try to kill his sister.
Ethan doesn't care about keeping Gwen happy, but Theresa thinks that he'll make her happy.
If Ivy wanted Gwen to get back at Theresa, why did she let on how Gwen was behind Theresa?
---
Back to the Main Passions Nitpicks & Flubs Page
Back to the Main Passions Page
---
---
Buy Soap Magazines
Go here for great news & scoops, photos and in-depth articles!
Soap Opera Digest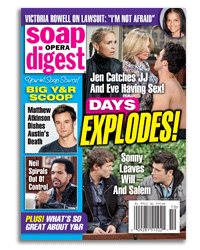 ---
---