PLEASE CLICK TO DONATE TO OUR SITE!!!!
Passions 2004 Nitpicks & Flubs
---
Here are the nitpicks and flubs we found this week on Passions:
12/18/04
Monday
Why was Gwen under the covers at the hospital when she wasn't supposed to be unconscious.
Tabitha went overboard saying why all the other suspects wanted Alistair dead, but she wouldn't say why Liz would want to kill him.
If Tina wanted Alistair to get help, why didn't she get him help herself?
Eve went to help Alistair on Friday's episode, but in this episode, she didn't help him.
If Theresa wanted Ethan to know what it was like to see the baby suffer, then she should let him be with her.
Theresa said that Gwen would never have her child, but she already has little Ethan.
Tuesday
Beth said that she wanted to kill Alistair, but all of a sudden, she wanted him to be alive.
If Ethan wanted to tell Gwen what he wanted to say, then he didn't have to let Gwen stop him. He could have told her.
If Sheridan was so concerned about Alistair, why didn't she go with him to the hospital when the EMT asked if anyone wanted to go with him.
The doctor didn't stop Gwen from yelling when she was yelling at Ethan, but she yelled when she was arguing with Theresa.
Wednesday
Where did Luis get the money to buy an engagement ring?
Whitney said she would look for a job, but what about her job at the Blue Note?
Eve has a picture of Theresa on her desk, but she didn't have one of Simone.
Why would Luis tell Beth that he and Sheridan set a wedding date before telling his family?
Since Luis was going to marry Beth, why would he ask her to be in his wedding?
Thursday
Once again Fox brought up how Ivy chose Ethan over him. We thought that he was over that.
How was Fox going to take Whitney away from Harmony when he doesn't have any money?
How did Luis know how the baby was doing when he hasn't checked on her since he left the hospital?
Why were Shuis and Beth spending so much time talking about Theresa and Gwen?
Whitney wanted to leave Harmony, but that wouldn't keep the baby from having birth defects.
Who did Edna know that Shuis and Beth were at the church?
When did Fox and Whitney move in together? We thought that she was living with TC.
Friday
Who changed Alistair's clothes since he was wearing a hospital gown before?
Sheridan didn't want to grieve over Antonio's death before, but all of a sudden, she couldn't believe he was dead.
In Thursday's episode, Theresa flinched when Gwen slapped Ethan, but in this episode, Theresa didn't do it.
Wasn't that convenient how Theresa didn't tell Gwen how she drugged Ethan?
---
Back to the Main Passions Nitpicks & Flubs Page
Back to the Main Passions Page
---
---
Buy Soap Magazines
Go here for great news & scoops, photos and in-depth articles!
Soap Opera Digest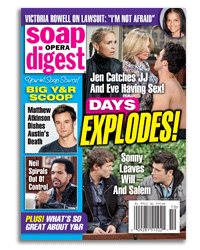 ---
---