PLEASE CLICK TO DONATE TO OUR SITE!!!!
Passions 2004 Nitpicks & Flubs
---
Here are the nitpicks and flubs we found this week on Passions:
12/4/04
Monday
Pilar took Maria away from Simone when she was crying, but Maria didn't stop crying.
Katherine saw how Martin's family was acting towards him, but all she cared about was Sheridan.
Pilar was leaving Tabitha's house, but she suddenly decided to help her clean up.
Ivy doesn't have a right to judge Whitney for lying about the father of her baby as if she didn't do the same thing.
Chad called Fox "white boy" as if he isn't half-white himself.
Since Martin wasn't famous or rich, why would there be so much information about him on the Internet? Who would have put that information on the Internet?
Tuesday
When Theresa was shown last, she was with Ethan, but in this episode, Ethan wasn't with her anymore.
Which nurse told Pilar that Theresa was in the hospital?
Jessica said that Kay didn't have any friends, but she has a friend in the hospital.
Martin had no bruises from the fight he had with Julian.
Wednesday
Where were Ethan and Gwen because they weren't at the hospital in Tuesday's episode?
Martin knows about what happen with Katherine so why did she have to tell him?
Beth said that Alistair was bleeding, but when she wiped his hand, there was no blood.
Now that Luis wants something, he has no problem using the Crane influence to help him.
How did everyone find out that Mr. Wheeler is Martin? Who told everyone that?
Thursday
Why would Rebecca think that Julian would stay with her when he has been with Eve?
Why wasn't Rebecca at the hospital? She was there the last time she was shown.
Martin said that he loved Pilar, but he said that he would do what he did with Katherine all over again.
What took Julian so long to try and divorce Rebecca?
Katherine didn't have a place at the hospital, but she wanted to go anyway.
Why was Theresa's family acting as if they knew that she was keeping the baby? As far as they knew, she was giving the baby to Gwen, but they referred to her as their niece and granddaughter.
Friday
Gwen didn't notice how Theresa called the baby her baby.
How come the nurse noticed how Theresa kept saying "my baby", but Gwen didn't notice it?
Why did Julian leave the library when he was expecting Judge Reilly's call?
Why did Shuis have to go outside to talk? They could have stayed at the hospital and talked to each other there.
Why wasn't Sheridan by Ethan and Gwen's side at the hospital?
The nurse told Gwen that she couldn't see the baby because only one person was allowed in the room. She also said that the mother was the only one allowed in the room, but Theresa wasn't in there so who was in the room with the baby?
---
Back to the Main Passions Nitpicks & Flubs Page
Back to the Main Passions Page
---
---
Buy Soap Magazines
Go here for great news & scoops, photos and in-depth articles!
Soap Opera Digest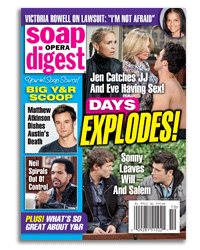 ---
---