PLEASE CLICK TO DONATE TO OUR SITE!!!!
Passions 2004 Nitpicks & Flubs
---
Here are the nitpicks and flubs we found this week on Passions:
11/27/04
Monday
On Friday, Fox was kneeling down when he was talking to himself about who was pregnant, but in this episode, he was standing up.
Where has Jessica been staying if she was conveniently gone for weeks?
Katherine's hairstyle was different again.
Since when did Beth start calling little Martin "Marty"?
Why did Luis keep asking Martin for explanations about his disappearance if he won't let him talk?
The garbage that Fox found the pregnancy test in was all over the ground on Friday, but it was cleaned up in this episode.
When Fox put the pregnancy test back in the garbage, he put the lid back on the garbage can, but when Whitney walked passed it, the top was off the can a little.
Since Paloma hates her family so much, then why did she want to meet Marty?
Tuesday
It was daytime in Monday's episode, but it was dark in this one.
Since it was dark, how come KMart were still in Harmony?
Katherine didn't react to seeing Fox right away.
Why did Sheridan write Katherine off if she was going to defend her again?
If Ethan thought Theresa was telling the truth, then what took him so long to get her to the hospital?
Gwen said that there was blood on the floor when Theresa was on the floor, but there wasn't any blood on the floor.
Wednesday
What was Endora drinking when her bottle was empty?
There was no blood coming through Theresa's clothes.
How much time went by because it was daytime when the show started, but it was dark when Beth was shown.
Tabitha invited the Lopez-Fitzgeralds for Thanksgiving dinner, but she didn't have a place for Theresa at her table.
Why didn't Pilar hear Theresa when she was screaming in pain?
Why didn't Ethan, Gwen, or Rebecca tell Pilar that Theresa went to the hospital?
It was wrong when Rebecca wanted the baby to live, but it was okay that Theresa wanted Ethan to choose Sarah's life over Gwen's life.
How did Martin know that Endora wasn't Tabitha's granddaughter?
Thursday
Passions didn't air this day.
Friday
Theresa was in a different room from the one she was in on Wednesday
How did Kay know who Martin was? She wasn't around when his identity was revealed.
Instead of just yelling at Luis, Beth and Sheridan could have pulled him off of Martin.
Since Gwen suspected that Theresa was up to something, why didn't she let Ethan drive her to the mansion.
Katherine and Tabitha had cranberry sauce on their faces, but it was gone after awhile.
---
Back to the Main Passions Nitpicks & Flubs Page
Back to the Main Passions Page
---
---
Buy Soap Magazines
Go here for great news & scoops, photos and in-depth articles!
Soap Opera Digest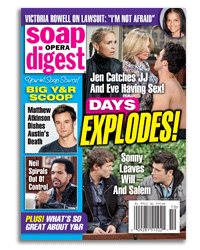 ---
---