PLEASE CLICK TO DONATE TO OUR SITE!!!!
Passions 2004 Nitpicks & Flubs
---
Here are the nitpicks and flubs we found this week on Passions:
Week of 11/19/04
Monday
When are Sam and Grace going to get a divorce? They have been apart long enough.
Who brought Theresa the clothes that she was wearing?
Sheridan was getting madder than Pilar was at Katherine.
Sam doesn't have any pictures of Noah?
How did Ivy know what was going on with Ethan, Gwen, and Theresa when she didn't even check on them?
Why did Theresa have to keep the wheelchair that she was using at the hospital? She was able to walk there so why did Theresa go home with the wheelchair?
Tuesday
What happened to the wrap that Whitney had around her shoulders? She was wearing while she was at the mansion, but when she was going to Theresa's room, it was gone.
There wasn't any glass on the floor from when Sam dropped the picture of Grace, Kay, and Jessica on the floor.
Whitney shouldn't have lied for Theresa if she didn't approve of Theresa hitting on Ethan.
The picture that Alistair had of Sheridan on the mantel was gone.
Theresa didn't have any blood when Rebecca shot her in her fantasy.
Why was Theresa reading her magazine in the dark?
Wednesday
When Ethan was talking to Theresa in Tuesday's episode, Theresa had a night light on, but in this episode there was a brighter light on.
Since Ethan seemed so frustrated with Theresa talking about them being together, then he shouldn't have gone back to Theresa's room.
How did Gwen know that she was going to have a boy and girl?
Paloma said that the family didn't call or write to her, but Luis said they did.
Earlier this week, Sheridan was mad at Katherine, but in this episode, she was defending her.
Thursday
Paloma was standing closer to Luis on Wednesday, but in Thursday's episode, she was farther away.
Once again Sheridan's hair was different. It seems to change every time she's shown.
The Seascape must be open all night since it was late and it was still open.
It was weird that Pilar told Luis about missing Martin's touch. He probably didn't want to hear anything like that.
The Seascape was practically empty when Julian and Eve were there, but it got crowded.
When Julian and Eve were in bed together, their arms kept changing.
There were different scenes going on while KMart were talking to Sheridan and Paloma, but they were still having the same conversation.
Friday
Martin and Katherine took the time to get new haircuts.
Sheridan shouldn't have let KMart stay at her cottage if she was so mad at them.
If Sheridan thought there was more to Katherine's story, then why was she mad at her when she found out that Katherine knew that Martin was married?
Katherine leaving "her children" had nothing to do with Sheridan (as far as she knows), but she made it her moment anyway.
Whitney should have known about Ivy's story about Ethan, but she reacted as if she never heard it before.
The Special K box that was on the counter at the Bennett house changed positions.
Grace was the one who owned the Bed and Breakfast so she wouldn't have let Ivy run it. Also Pilar was the one that was running it so why when did Grace tell Ivy that she could run the B&B?
---
Back to the Main Passions Nitpicks & Flubs Page
Back to the Main Passions Page
---
---
Buy Soap Magazines
Go here for great news & scoops, photos and in-depth articles!
Soap Opera Digest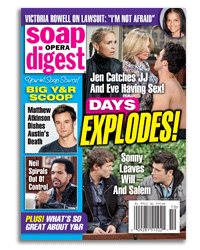 ---
---