PLEASE CLICK TO DONATE TO OUR SITE!!!!
Passions 2004 Nitpicks & Flubs
---
Here are the nitpicks and flubs we found this week on Passions:
6/28 - 6/30/04
Monday
Chad said that Fox was his best friend, but we thought that Ethan was his best friend.
Why would Julian tell Alistair that Sheridan was still alive? He knew how Alistair would react.
Luis's scar changed again. It was darker again.
Luis didn't hear Katherine talking to Martin while he was on the phone with him.
Pilar must thing that Sheridan is stupid because she pointed to her heart when she told her that she felt Martin in her heart. Even Sheridan should know where your heart is.
Why is it that everyone is calling Eve "Dr. Eve"? They didn't do that before and now they are.
Tuesday
Liz was able to sneak out of the Russell house without Eve or TC seeing her.
The people at the home didn't need Eve to come in to take Irma out of the home. Liz shouldn't have been able to get her out so easily.
Liz always manages to see or speak to someone different at the home.
The writers must have used a different woman to scream for Theresa when she was on the cliff because when the camera was on Theresa, she didn't scream the same way that Fox heard her.
Alistair said that Martin and Katherine were gone for 20 years. How is that possible since Paloma hasn't even graduated from high school? Martin is her father so how did they manage to leave that long?
If Paloma had a leg cramp while she was in the water, how come she was able to swim?
Why didn't the people at the Seacliff Inn have a warning sign by the path to keep people from going to it?
What a lucky break for Theresa that Fox knew exactly where to find her! She could have been anywhere by the cliff, but he managed to find her.
Wednesday
Why does Irma's room look so much like Whitney's room?
How did the person who put the news on the Internet about Antonio know that he was the one on the jet? It could have been anyone.
There was no report about the other people that were on the Crane jet.
The stunt doubles for Fox and Chad while they were fighting were so obvious.
Julian paid the detective all that money for info about his son just for him to give him a hint about his identity. What a waste!
Pilar is supposed to be hooked up to a monitor so why didn't the nurses know that something was wrong with Pilar?
---
Back to the Main Passions Nitpicks & Flubs Page
Back to the Main Passions Page
---
---
Buy Soap Magazines
Go here for great news & scoops, photos and in-depth articles!
Soap Opera Digest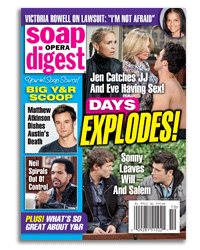 ---
---