PLEASE CLICK TO DONATE TO OUR SITE!!!!
Passions 2004 Nitpicks & Flubs
---
Here are the nitpicks and flubs we found this week on Passions:
11/13/04
Monday
Why didn't Sam check Martin to see if he was okay?
Sam stood by and watched Luis fighting Martin, but he didn't do anything to stop it.
Martin didn't have a bruise on the front of his head and that was where he hit his head.
When is Ethan going to tell Ivy about what he and Gwen are going through.
Why did Dr. Ames tell Theresa that it wasn't her fault that she has to be in that position? It was her fault.
Luis didn't have any bruises on his hands and he was hitting Martin really hard.
Why was Martin wearing his clothes and not a hospital gown while he was in the hospital?
Tuesday
The back of Martin's head was bleeding, but he didn't have his head wrapped.
Eve had pictures of her life with TC when they were alone. Who took the pictures of them?
There were no signs that Martin was even hurt anymore.
Luis didn't want to believe that Martin was his father, but he expected Pilar to believe it right away.
Wednesday
Anytime TC wants to talk to Eve, her beeper always goes off.
Since Eve and TC are sleeping with Julian and Liz, why was Eve so surprised that TC wanted a divorce?
Did Pilar fall on the floor that hard that the back of her head would start to bleed? That never happens when other people faint on the show.
Theresa didn't question Whitney when she was telling her about babies causing trouble. How would Whitney have known that?
Why did the doctor check the front of Martin's head when he stitched the back of his head?
Sheridan obviously doesn't think that Theresa is a good person since she didn't mention her to Martin.
Thursday
Since Simone and Kay grew up around Hispanic people, why would they make racist comments towards Paloma?
If Simone, Kay, and Tabitha were arrested "the other night," then the Wheelers and Paloma weren't in Harmony as long as Chad said they were.
Martin and Katherine should have left Harmony instead of wasting time talking about leaving.
Why didn't Pilar take her shoes off while she was sitting on the bed at the hospital?
Pilar's head was bleeding in Wednesday's episode, but her head wasn't wrapped in a bandage.
Once again Paloma wasn't at the hospital with her family.
Eve's office door was cracked open when Julian and Liz were outside of her office, but when Eve and TC were shown, the door was open wider.
Friday
Kay kept playing musical chairs because she kept moving from one seat to another.
If Kay wanted her parents back together, then she could go to Sam and tell him the truth again.
Paloma must be going for a record with how many times she says how her mother abandoned her.
Eve was crying without any tears.
When Miguel left town, he didn't have a laptop, but Kay said he took it when he left. Also, if he had a laptop, why did he have to go to the Book Cafe before to use one?
If Simone wanted to make up with Eve, she could do it instead of complaining about it.
When was Miguel sending money to Kay and Maria?
If Miguel has money to send to Kay, why didn't he send some to his family?
---
Back to the Main Passions Nitpicks & Flubs Page
Back to the Main Passions Page
---
---
Buy Soap Magazines
Go here for great news & scoops, photos and in-depth articles!
Soap Opera Digest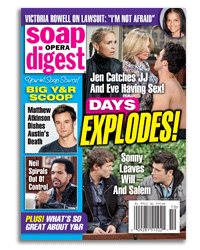 ---
---