PLEASE CLICK TO DONATE TO OUR SITE!!!!
Passions 2004 Nitpicks & Flubs
---
Here are the nitpicks and flubs we found this week on Passions:
11/5/04
Monday
On Friday, Luis found out that there was a match for KMart, but in this episode he didn't find out right away.
When did Whitney bring a nightgown to Fox's place?
Fox and Whitney kissed each other before they brushed their teeth.
Since Luis was downloading files why was he typing too? What could he have to type at that time?
Tuesday
Katherine managed to get her hair cut again.
Luis broke Hank's computer as if it was his.
Since Pilar and Luis claimed they felt a connection to Mr. Wheeler, it shouldn't have been hard for Luis to believe that she was Martin.
When did Sheridan find out that Pilar thought that Mr. Wheeler was Martin?
Theresa always plays the "mother card" anytime someone is disgusted by her actions.
Wednesday
Pre-empted
Thursday
Why was Theresa wearing so much eye makeup when she was at the hospital?
Why did Theresa put the babies' lives in Ethan's hands when she was going to decide their fate herself?
If Sheridan doesn't want to dump her problems on Katherine, then why does she do it?
Why was Ethan being so nice to Theresa when she was trying to get him to play God with the babies.
Luis clearly didn't hit Martin when he hit him the second time.
Friday
When did Theresa take the time to call Whitney when she was talking to Pilar?
What took Whitney so long to visit Theresa again?
Since Martin had plastic surgery on his face, why didn't his face mess up when Luis hit him?
The blood on Martin's lip kept changing.
Pilar told Theresa that she was a monster, but then she told Ethan that she wasn't a monster. Which one is it?
Martin hit the front of his head, but he had blood on the back of his head.
---
Back to the Main Passions Nitpicks & Flubs Page
Back to the Main Passions Page
---
---
Buy Soap Magazines
Go here for great news & scoops, photos and in-depth articles!
Soap Opera Digest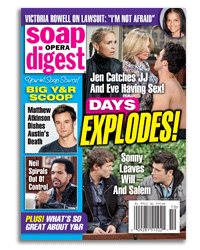 ---
---