PLEASE CLICK TO DONATE TO OUR SITE!!!!
Passions 2004 Nitpicks & Flubs
---
Here are the nitpicks and flubs we found this week on Passions:
10/30/04
Monday
Why was Tabitha out of jail?
Who bailed her out of jail?
Ethan shouldn't listen to Theresa telling him to leave Gwen if he loved her.
Katherine and Martin could have told Sheridan and Luis the truth without giving them the runaround.
Why was Gwen taking up a bed at the hospital if she doesn't need it?
Why was Sheridan able to stay in Katherine's cell so long?
How come there aren't any police officers or guards walking by Katherine's cell?
The tear that was on Theresa's face changed. At first it was streaming down her face, and then it was almost gone, and then it was streaming down her face again.
Why was Gwen able to yell in the hospital without anyone stopping her?
Tuesday
Gwen wasn't yelling at Ethan the way she did in Monday's episode.
A nurse walked by, but she didn't stop Gwen from yelling at Ethan.
Why was Eve trying to talk Theresa out of going through with the procedure if she wanted her to have it?
When did Alistair get out of the hospital? He was just in the hospital during this night, but now he's out.
Since Sam is with Ivy now, he doesn't have to wear his wedding ring, but he wears it.
Wednesday
How did Paloma know to find Chad at the recording studio?
It took Pilar a long time to get back to Theresa's room.
You could see the closed sign behind Fox at the cafe, but there were people still there.
Why were Chad and Paloma at the studio when they were at the hospital with Theresa?
Paloma complained about how her family didn't spend time with her as if she didn't just get to town that day.
Chad said that Paloma has been in Harmony for a few weeks but it's still the same night that she got there.
Thursday
Now the leaves in Harmony are different. They were green yesterday.
Why were KMart talking so loudly about their identities if they didn't want anyone to know about them?
Sheridan managed to get a haircut.
How did Luis know which glasses were KMarts'? When did he see them drinking anything?
Since Luis isn't a cop anymore, why was he able to use the computer there?
Why was Sheridan able to use the computer at the police station?
Friday
Sheridan's hairstyle was different from Thursday's episode.
Katherine wanted to leave Harmony in Thursday's episode, but she suddenly wanted to stay in this one.
How did Alistair know what Shuis were doing at the police station? They didn't tell anyone they were going there.
Theresa didn't need to worry about Eve ruining her plan because we all knew she wasn't going to do it.
The hands on the clock on the mantle at the mansion didn't move.
Sheridan acted as if KMart leaving only affected her.
KMart never said they were staying in Harmony forever so Paloma and Sheridan were reacting for nothing.
---
Back to the Main Passions Nitpicks & Flubs Page
Back to the Main Passions Page
---
---
Buy Soap Magazines
Go here for great news & scoops, photos and in-depth articles!
Soap Opera Digest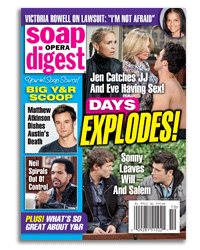 ---
---