PLEASE CLICK TO DONATE TO OUR SITE!!!!
Passions 2004 Nitpicks & Flubs
---
Here are the nitpicks and flubs we found this week on Passions:
10/22/04
Monday
Fox's hair was shorter again. It was fuller last week.
When did Fox meet Theresa? She just got to Harmony that day.
Pilar knew that Alistair was alive, but Sheridan didn't know about it.
It's the same night that Ivy and Sam went to the Seascape and Ivy's hair is shorter than it was then.
Since Katherine knows so much about Alistair's past, she could have did that years ago instead of leaving her children behind.
Tuesday
Sheridan went to the hospital to find Katherine, but she didn't go see Ethan and Gwen.
Gwen was standing on Theresa's right on Monday, but in this episode she was on Theresa's left side.
Theresa's monitor looked like it was flat lining.
Whitney forgot to mention to Fox that Jessica still lives in the Bennett house. She mentioned Sam and Ivy, but not Jessica.
How did Ivy know to find Julian at the hospital when she was looking for him?
Ivy took the time to find Julian, but she didn't check on Ethan and Gwen.
Martin's nose didn't look as big in the flashback with Alistair as it used to look in the flashbacks.
At first, Theresa's monitor was flat lining, but after awhile, it was working again.
Wednesday
Sheridan said that she was going to get Katherine the best lawyer, but she doesn't have the money for that.
When did Sam put his uniform on?
Why didn't Sam see Kay in jail?
How did Shuis know to go to Theresa's cubicle at the hospital?
Why isn't Paloma at the hospital? She was there before, but she's gone now.
Martin was using his cell phone in Alistair's hospital room.
If Martin loved Katherine, why did he want to be back with Pilar?
Why was Sheridan visiting Katherine in a cell and not in the visiting room?
Thursday
Ivy was at the hospital, but she didn't stay to check on Ethan and Gwen.
If Theresa had to hurry up and decide what she's going to do about the babies, why would Eve be in surgery?
Who told Ivy that Chad and Whitney were getting married?
Pilar defended Martin to Luis and Theresa, but she blamed him for why Luis had to miss out on his childhood.
It's only been two days since Sheridan met Katherine, but she said that it's been a couple of months.
Martin felt that he had to tell Luis first about his identity, but Pilar is the one that wanted him to come back to her.
Katherine's jumpsuit didn't have any cell block numbers on it.
Fox and Whitney already ate dinner, but he wanted to make dinner reservations.
Friday
The audience knows that it's only been a couple of days since Chadney found out they were brother and sister, but Ivy said it's been a week.
How come Eve wasn't still in surgery? She was in surgery before.
Why wasn't Gwen wearing a hospital gown?
Pilar said that she was going to be with Theresa, but she wasn't in her cubicle.
---
Back to the Main Passions Nitpicks & Flubs Page
Back to the Main Passions Page
---
---
Buy Soap Magazines
Go here for great news & scoops, photos and in-depth articles!
Soap Opera Digest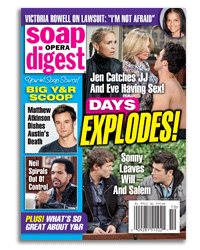 ---
---