PLEASE CLICK TO DONATE TO OUR SITE!!!!
Passions 2004 Nitpicks & Flubs
---
Here are the nitpicks and flubs we found this week on Passions:
10/8/04
Monday
On Friday, Ivy was in the bathroom at the Seascape with Eve. In this episode, Ivy wasn't there anymore because Sam called her.
Eve was in the bathroom with Ivy on Friday, but she was with Julian.
Pilar, Shuis, and Martin heard the gunshot in Alistair's library with the door closed, but they didn't hear the yelling in there with the door open.
The blood on Alistair and Katherine was on the same side, but it should have been on different sides since they were standing face to face.
Maria called Gwen Julian's daughter-in-law, but she is his stepdaughter.
There was no bullet hole in Alistair's shirt since Katherine shot him.
Katherine and Martin were in a mansion with monitors and they called each other by their real names.
Tuesday
Tabitha knew before whether Chad was Whitney and Simone's brother, but now she's not sure if he's their brother.
No one recognized Chad at the pier considering he was in the tabloids.
Katherine doesn't have a scar on her face from when Alistair cut her last week.
If Paloma read about what's going on in Harmony, how come she didn't recognize Alistair?
Where did Fox and Whitney get the blanket that they were sitting on while they were on the beach?
Why didn't Kay and Simone know who Paloma was since they grew up with Miguel?
Wednesday
Why were Fox and Julian at the office when they were at the hospital?
Who told the reporters that Alistair was shot?
If reporters already knew about Alistair being shot, how come Ethan, Gwen, and Theresa didn't know about it? They were right in the house.
Sam put the handcuffs on Katherine in front of her instead of behind her.
What happened to Pilar? She was at the hospital, but then she was gone.
Since Alistair was the one shot, why did Katherine have more blood on her than he did?
Thursday
Why did Theresa, Gwen, and Ethan change their clothes? It's the same night that Paloma came back to Harmony.
When did Pilar go back to the mansion when she was at the hospital?
Whitney's eye shadow was different. She had on a darker shade before, but now it's a lighter shade.
When did Theresa meet Martin? When she saw him, she knew he was "Mr. Wheeler", but how did she know that?
There was dirt/sand on the ground when Sheridan fell, but none of it was on her pajamas.
Why did Pilar feel that she had to tell "Bob" her life story? As far as she knew, he was a stranger.
Friday
Tabitha's bowl didn't warn her that KMart were back in Harmony.
Theresa told Whitney about rebound relationships, but she was in one with Fox.
Chad doesn't have any experience, but Julian gave him such an important job at Crane Industries.
Simone didn't have to be so rude about Tabitha going out with her, Kay and Paloma. She's nice enough to let her barge into her house whenever she wants to see Kay, but she's not good enough to go out with them.
Why did Tabitha, Simone, and Kay leave Paloma when they went to the bar? She's new so she shouldn't have known how to get there.
Where did Paloma get her dress from? How did she know that she would need a low-cut dress like that?
How did Whitney know which room Eve was staying in at the mansion? She wasn't there to see her so she shouldn't have known where it was.
Eve was at the hospital, but she didn't have her medical bag with her.
---
Back to the Main Passions Nitpicks & Flubs Page
Back to the Main Passions Page
---
---
Buy Soap Magazines
Go here for great news & scoops, photos and in-depth articles!
Soap Opera Digest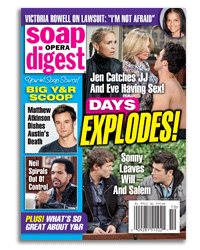 ---
---