PLEASE CLICK TO DONATE TO OUR SITE!!!!
Passions 2004 Nitpicks & Flubs
---
Here are the nitpicks and flubs we found this week on Passions:
9/17/04
Monday
In Friday's episode, KMart were inside the hotel watching Shuis, but they were outside at the beginning of this episode.
If Alistair wanted KMart and Sheridan dead, he shouldn't have give Martin the antidote to save them.
Why did Theresa want Ethan to suffer when she knew he was trying to help her?
Ethan shouldn't confess to what he thinks he did with Theresa out loud if he doesn't want Gwen to hear it.
Theresa wasn't wearing a hospital gown while she was in the hospital.
When did Whitney have time to change her clothes? She wasn't even wearing those clothes at the mansion.
Kay should have a scar from being speared, but she doesn't have one.
Ethan said that he slept with Theresa a couple of months ago, but she said that she carried the babies for nine months.
How long did it take for Sheridan to get into her wedding dress if Luis had time to surprise her with wedding arrangements?
Tuesday
Theresa's stomach keeps changing. It's big one minute and small the next.
Since Martin looks the same, Pilar's friends, should have recognized him, but they didn't.
Theresa said that Chadney sleeping together wasn't that bad. Why doesn't she think that Whitney sleeping with her brother is bad? Was she trying to tell us all something? LOL!
Everyone only had half an hour to get ready for Shuis's wedding, but everyone was able to have time to finish getting ready
If Theresa didn't want Pilar to worry about her, then she shouldn't have mentioned how Ivy was on to her.
Katherine doesn't feel as guilty as she claims about Martin leaving Pilar or she wouldn't have been with him herself.
Why were TC and Liz wearing the same clothes that they were wearing before they had sex? They could have changed them.
TC managed to get a haircut, but when did he have time to do that when he was with Liz?
Whitney could tell Theresa that Chad is her brother, but she couldn't tell her that she's pregnant.
If Whitney wanted Eve to tell TC about Chad being her son, why did she tell it herself?
Thursday
You would never know that this is the same day that Luis and Sheridan almost died.
Sheridan had snake bites on her neck, but they were gone.
Luis had a head wound from the rubble in the Aztec, but they were gone too.
Why did Luis tell Sheridan about the legend of the glasses if he didn't want her to worry?
If Pilar is going to be at the Crane mansion, who is going to run the bed and breakfast?
Friday
If Chad is so disgusted by the Cranes, why doesn't he just leave the recording studio?
Since little Ethan wasn't seen with Antonio, it was hard to believe that he missed him.
Pilar needs to stop wasting her time giving Theresa advice about the twins since she's not listening to her.
Since Alistair doesn't want anything to do with Julian, how is he going to give Crane Industries to Chad?
Who would have told the reporters about Chad being Julian and Eve's son?
Ethan didn't seem too upset at the idea that Theresa could have tricked him into having sex with her.
---
Back to the Main Passions Nitpicks & Flubs Page
Back to the Main Passions Page
---
---
Buy Soap Magazines
Go here for great news & scoops, photos and in-depth articles!
Soap Opera Digest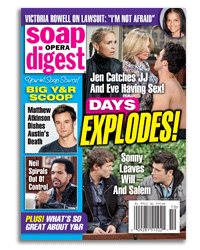 ---
---