PLEASE CLICK TO DONATE TO OUR SITE!!!!
Passions Nitpicks & Flubs
---
7/7/08 – 7/11/08
Monday
Why couldn't Tabitha use her magic to pack up her things?
Everyone who was missing from the church were conveniently back in this episode.
Why weren't Kay and Miguel at the church again?
Why weren't the kids at the rehearsal? You would think that Marty, little Ethan, Jane, and Maria would have been at the church.
Tuesday
Esme was supposed to open the door to help Sheridan, but she was locking it instead of opening it.
Ethan was passed out from the poisoned mushrooms, but all Theresa had to do was kiss him and he woke up.
What happened to Savy, Pilar, Noah, Paloma, and Gwen? They were passed out in Monday's episode, but they were gone in this one.
How did Kay, Miguel, and Maria go to another dimension when she had to use magic? Miguel didn't want her to use her magic so when did he change his mind?
Wednesday
Vincent elbowed Julian in the face, but you would never know it. Julian didn't have any bruises on his face.
How bad could the storm have been if Esme was able to make it to Tabitha's house?
Eve didn't bring her medical bag with her when she went to the church, but she had it in this episode.
Back to the Main Passions Nitpicks & Flubs Page
Back to the Main Passions Page
---
---
Buy Soap Magazines
Go here for great news & scoops, photos and in-depth articles!
Soap Opera Digest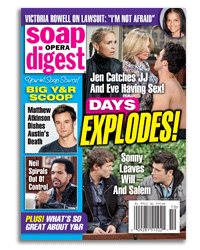 ---
---