PLEASE CLICK TO DONATE TO OUR SITE!!!!
Passions Nitpicks & Flubs
---
6/16/08 – 6/20/08
Monday
Pretty had her hair pulled back, but she didn't have her scar on her face.
Are we missing something? Ethan and Gwen are still married, but everyone kept saying that they are getting remarried.
Just before the commercial break (around the half hour mark), Gwen was reading the last page of Theresa's note. When Gwen was shown again, she had all of Theresa's letter in her hands.
Tuesday
Pretty's scar changed again. It looked like it wasn't on her face on Monday, but it was back and darker than it was before.
Vincent was with Viki so who was with his baby?
The top was on the needle that Juanita was holding, but it was gone within the same scene.
The pregnancy pad that Pretty was using made her look bigger when she wore it, but it didn't look that big when it fell on the floor.
Wednesday
When did Sheridan find out that Alistair died? No one told her about his death.
Tabitha indicated that she would remember Timmy in her heart. The problem with that is Tabitha doesn't have a heart.
Tabitha's house was rocking, but nothing fell.
Back to the Main Passions Nitpicks & Flubs Page
Back to the Main Passions Page
---
---
Buy Soap Magazines
Go here for great news & scoops, photos and in-depth articles!
Soap Opera Digest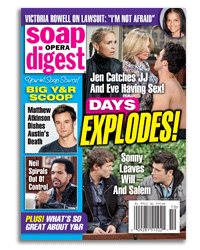 ---
---