PLEASE CLICK TO DONATE TO OUR SITE!!!!
Passions Nitpicks & Flubs
---
5/26/08 – 5/30/08
Monday
The scratches on little Ethan's face looked different.
No one at the mansion thought to check on Jonathan and Jane after the earthquake.
Ethan said that there was no reception because the cell phone tower must be out, but Sam was able to use the phone.
The blood that was on Theresa's face changed from how it looked before.
How did Viki know to show up at the hospital to shoot Alistair at the same time that Julian was about to shoot him?
Pilar was able to use her cell phone at the mansion, but Ethan said that the cell phone tower was out.
Tuesday
When Ethan kissed Theresa on Monday, the room was dark, but the lights were on in this episode.
Vincent was dressed up as Sheridan last week, but now he's dressed up as Valerie.
Luis and Fancy didn't notice how big her stomach looks.
Vincent knew about what happened to Alistair, but no one told him what happened.
Wednesday
The bruises on Theresa's face were gone.
Why do all of Theresa's fantasies have to take place at the Crane mansion?
Theresa's position changed when Ethan asked Pilar if she was okay with the renewal service. Theresa was standing farther away from Pilar at first, but she ended up closer to her after the commercial break.
Back to the Main Passions Nitpicks & Flubs Page
Back to the Main Passions Page
---
---
Buy Soap Magazines
Go here for great news & scoops, photos and in-depth articles!
Soap Opera Digest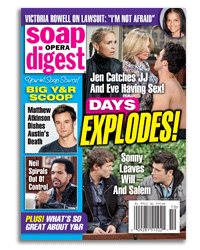 ---
---