PLEASE CLICK TO DONATE TO OUR SITE!!!!
Passions Nitpicks & Flubs
---
3/3/08 – 3/7/08
Monday
Why wasn't Marty with everyone when they came back from Mexico?
No one at Theresa's memorial heard Pilar and Gwen talking about Gwen blackmailing Pilar.
Noah said Pilar was Grace's best friend. Did the writers forget that Eve was her best friend?
Why wasn't Eve Theresa's memorial?
Tuesday
The champagne Esme was drinking disappeared, but she didn't finish drinking it.
Why would little Ethan think that Rebecca was Theresa?
Esme didn't notice how unhappy Viki looked at the idea of her marrying Julian.
The body bag Theresa was in was closed one minute then opened the next.
Wednesday
The light in Theresa's room was out when no one turned it off.
Fancy was able to leave the mansion without Luis seeing her.
Theresa's monitor was on one minute and off the next.
Back to the Main Passions Nitpicks & Flubs Page
Back to the Main Passions Page
---
---
Buy Soap Magazines
Go here for great news & scoops, photos and in-depth articles!
Soap Opera Digest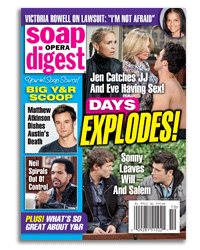 ---
---