PLEASE CLICK TO DONATE TO OUR SITE!!!!
This is just an unofficial fan page, we have no connection to "Passions" or NBC.
PLEASE CLICK TO DONATE TO OUR SITE!!!!
Passions Fan Fiction
---
Recovering from the Past by Jenn
Prologue...
"I, Luis Lopez-Fitzgerald, take you, Sheridan Crane, to be my lawfully wedded wife, to..."
"I have to stop this", Luis grumbled as he approached the stairs. "Its been nearly 7 years and I still replay that day in my mind".

Luis had been on the go since that day seven years ago. He quit his job as a Harmony police officer and left the Lopez-Fitzgerald home. he had sworn to never go back. His only connection was his monthly phone conversations with his mother, and even those were brief. No one was to know where he was.

"Looks like another dump", Luis said as he entered the room. Since he was always on the go, it had been hard to find a job, and money was tight. The motel he checked into was just like all the others - dirty and cheap. Luis couldn't afford anything else. He would stay at each motel for about a month or so and then move on to the next. He didn't want anyone to track him down, so moving from motel to motel was the easiest way to prevent it. Luis threw his bags in the corner and collapsed on the bed. He'd been driving all day and was exhausted. He closed his eyes, and like always, his mind drifted to the past. A past filled with happy times, sad times, and painful times. A past he spent with her...
Back to the Main Passions Fan Fiction Page
Back to the Main Passions Page
---
---
Buy Soap Magazines
Go here for great news & scoops, photos and in-depth articles!
Soap Opera Digest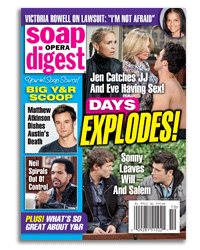 ---
---