PLEASE CLICK TO DONATE TO OUR SITE!!!!
Passions Fan Fiction
---
Recovering from the Past by Jenn
Chapter Three
Luis followed Jason through the alleys and back streets. He took this time to form his opinion of Jason. Jason came across as a mysterious and secretive man, but he must be trustworthy in order to work for Sonny Corinthos. Luis was curious to find out why he was working for Sonny. More importantly Luis wanted to know what Sonny wanted him for and why AJ was involved.
They continued walking five more blocks and Jason walked into an apartment building. Luis followed him into the elevator and watched as Jason pressed "P" for penthouse.
The two men emerged from the elevator and walked towards the penthouse door. Jason mumbled something to the guard standing outside and then let Luis in.
"Have a seat. Sonny will be out in a minute" Jason said. He walked out of the room leaving Luis alone to take in his surroundings. It sure didn't look like the home of a notorious mobster. 'He must be married' Luis thought. The room had a feminine touch to it.
Luis was so engulfed in his thoughts that he didn't notice someone had entered the room.
"Mr. Lopez-Fitzgerald welcome" Luis looked up to see Sonny standing next to the fireplace.
"Mr. Corinthos, thank you for having me in your home"
"Luis sit. I want to talk to you about why you're here" Sonny said as he sat across from Luis.
"Jason mentioned AJ Quartermaine"
"Yes, AJ has been a problem of mine for a number of years now. Before I married my wife Carly, AJ fathered her son Michael. For years AJ has been trying to get Michael back and most recently he married my sister Courtney. AJ is a creep. He paid someone to stalk Courtney and has been ruining her life ever since."
"I might just know how you feel Mr. Corinthos. AJ has ruined my life as well" part of Luis was somewhat happy to know someone else was feeling his pain.
"Yes, AJ is responsible for the end of your engagement to Sheridan Crane was he not?"
"Yes how did you know?"
"I've had my men following AJ for quite some time now. They were there that day in the church"
When Sonny mentioned the church, Luis' mind traveled back to that day and he felt an odd chill.
"Well, Mr. Corinthos how can I help you with AJ?"
"First I need your trust and promise that you will keep your conversations and meetings with me to yourself"
"You can trust me Mr. Corinthos"
Sonny stood up and walked to the mini bar. He poured himself a drink and took a sip.
"I have two words for you Luis - Skye Quartermaine"
Another Quartermaine? Luis knew that this "Skye" was no good.
Back to the Main Passions Fan Fiction Page
Back to the Main Passions Page
---
---
Buy Soap Magazines
Go here for great news & scoops, photos and in-depth articles!
Soap Opera Digest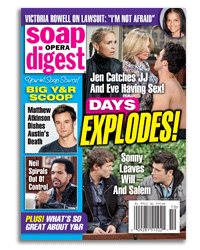 ---
---