PLEASE CLICK TO DONATE TO OUR SITE!!!!
Passions Fan Fiction
---
Recovering from the Past by Jenn
Chapter Two
Luis drove the entire day. Like usual he had no set destination in mind. He would stop wherever looked good or when he got too tired to continue to drive. It was getting late. Luis decided that the next town he entered would be where he stopped.
Welcome to Port Charles.
"Port Charles? Sounds like an okay place to stay for awhile" Luis pulled into the Port Charles Hotel and got a room.
"Wow, it's 11:00 already. I think I'll get some sleep and start my job search tomorrow." Luis turned off the lights and fell asleep.
The next morning Luis got up early to workout in the hotel's gym. Even though his life had fallen to piece, Luis still took pride in his body and physical appearance. After the gym, Luis picked up a local newspaper and opened to the classifieds.
"Let's see...mechanic - no, truck driver - definitely no, police officer - not again, carpenter - sounds like a good job to me. I've always been good with tools."
Needed: Carpenter Some experience necessary If interested call 518-7765
Luis picked up the phone and dialed the number.
"Hello? Yes, I'm interested in the carpenter job" Meet me at the wharf tonight at 9:00 "What?" I'll explain then "What are you talking about?"
But it was too late. The man on the other line had already hung up.
"That was strange. I'll just have to go tonight and find out what's going on"
Luis got dressed and left the hotel at 8:30 to meet the mystery man. He arrived at the wharf around 8:50.
"10 minutes early. I'll just wait." Luis said.
"No you won't." A man dressed in black emerged from the alley and approached Luis.
"You must be the man I spoke to earlier" Luis said.
"Yes"
"Well, before you tell me about the job I just want to tell you that I move around a lot and--"
"Luis, stop"
"How do you know my name?" Luis could feel his cop instincts creeping back.
"We traced your phone call. Luis Lopez-Fitzgerald, your last steady job was as a police officer in a town called Harmony. You're just what we're looking for"
"Listen buddy, I don't know what's going on here but what do you want with me?" Luis asked.
"Luis, my name is Jason Morgan and this is not an interview for a carpenter job. I work for Sonny Corinthos."
"The Sonny Corinthos?"
"Yes"
"I don't know what you want from me, but I will have nothing to do with Mr. Corinthos" Luis backed away from Jason.
"Well Mr. Lopez-Fitzgerald what if I said we need your help with AJ Quartermaine?"
The anger inside Luis grew when he heard the name. AJ Quartermaine that sick son of a -
"Now you have my attention Mr. Morgan" Luis replied with somewhat of a devilish grin.
Back to the Main Passions Fan Fiction Page
Back to the Main Passions Page
---
---
Buy Soap Magazines
Go here for great news & scoops, photos and in-depth articles!
Soap Opera Digest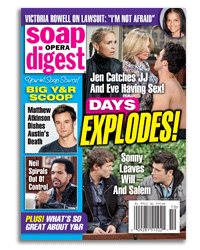 ---
---