PLEASE CLICK TO DONATE TO OUR SITE!!!!
Passions Fan Fiction
---
Recovering from the Past by Jenn
Chapter One
7 years ago...
"Hey, buddy! you ready?" Hank asked.
"Oh, yeah, I'm ready. Today Sheridan Crane will become my wife...Mrs. Sheridan Lopez-Fitzgerald..I like the sound of that" Luis replied.
Both Hank and Luis were standing at the altar along with Miguel and Father Lonigan. The wedding of Sheridan Crane and Luis Lopez-Fitzgerald was about to begin and the church was packed! It was the biggest social event of the year. The music began to play and the bridal party filed in. The Wedding March began to play, and Sheridan's radiant smile filled the church.
The ceremony started and Father Lonigan was ready for the vows. "I, Sheridan Crane, take you, Luis Lopez-Fitzgerald, to be my lawfully wedded husband. To have and to hold, for better or worse, for richer or poorer, in sickness and in health til death do us part."
"I, Luis Lopez-Fitzgerald, take you, Sheridan Crane, to be my lawfully wedded wife. To -"
"STOP!"
Everyone was shocked. Someone actually came to stop the wedding of Sheridan and Luis? A dark haired man ran to the front of the church.
"A.J.?" Sheridan questioned.
"Sheridan, who's A.J. and why is he stopping our wedding?"
"Luis, A.J. is a friend of mine. His name is A.J. Quartermaine and we know each other from the country club. A.J., what are you doing?"
A.J. approached both Sheridan and Luis.
"I can't let you two be married when you are sleeping with me, Sheridan," he said.
"What?!" Luis was furious. How could Sheridan cheat on him? He thought she loved him.
"Luis! Let me explain! It's not what you think!" Sheridan screamed. The tears were coming down her face, but Luis was too upset to notice.
"I don't want to hear it, Sheridan" Luis yelled back. He ran from the church and left the love of his life screaming and crying on the altar.
That radiant smile - gone. That was the last time he saw her.
Present day...
"Why, Sheridan? Why did you do this to me? to us? How could you sleep with A.J.? He's a Quartermaine. You know the Quartermaines ruin lives."
Luis packed his bags and left the motel. He couldn't sit here and think of her all the time. It was time to move to his next destination.
Back to the Main Passions Fan Fiction Page
Back to the Main Passions Page
---
---
Buy Soap Magazines
Go here for great news & scoops, photos and in-depth articles!
Soap Opera Digest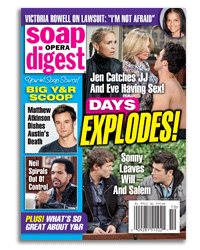 ---
---