PLEASE CLICK TO DONATE TO OUR SITE!!!!
This is just an unofficial fan page, we have no connection to "Passions" or NBC.
PLEASE CLICK TO DONATE TO OUR SITE!!!!
Passions Fan Fiction
---
Kay's 18th Birthday

by Laura "Emiko" M.

On one enchanted dark evening, Kay had invocated to God that she would capture the heart of her long- time best friend, Miguel Lopez- Fitzgerald. Everyday when she had risen from her bed, she continued to pray for her dream to come true. She knew that miracles do happen, after hearing the words of Father Lonigan. Kay Bennett was one girl who would do perhaps anything to win Miguel's love. Not the love for her as a friend, but the love that Kay has been always been dreaming about ever since she was a little girl.

This morning Kay was not her usual self. She usually appeared with a smile on her face. Her mother, Grace Bennett has seen how her behavior has changed. Recently, Kay has been in complete solitude in her room. The only time anyone has been noticing her coming out of her room, is when its time to eat. Grace was worried about her beloved daughter Kay, so she decided to go check up on her in her bedroom upstairs.

"Kay, honey. Can I come in? It's your mother." Kay replied with, "Yeah, you can come in, mom." Grace observed that her face looked even more depressed than it was earlier of the day. " Kay, what's wrong with you?" "Mom, I feel so lost and so empty without Miguel in my life," Kay had confronted to her mother. "Kay, Miguel is in your life; what are you talking about?" Kay answered, " No, not the way I want him to. What I'm trying to express is that I want Miguel to love me more than just a friend to hang out with." While Grace was comforting Kay with her hands on Kay's shoulder, she told her daughter that Miguel likes her more than as a friend.

"Mom," Kay said. " Did you just say that Miguel sees me more than just one of his buddies?" Grace recommenced in comforting Kay, except this time she grabbed hold of Kay within her arms. "Mom, all of this time you knew how much I love and care for Miguel; and you didn't even bother to say anything?" Kay's mother told her, " Kay, I'm terribly sorry I wasn't able to tell you earlier. Please forgive me. I just wanted to tell you today, since after all it is your 18th birthday."

As soon as Kay had been told the eminent news from her mother, it seemed like everything was lifted off her shoulders. Her depressed face quickly turned into one of those big smiles that she usually has on her face. Kay felt like she was the luckiest girl in Harmony, since all of her hopes and desires finally came true!

The best part about it was that her wish came true on her birthday!

Now it was lunchtime, and Kay hurried down the stairs to see if Miguel was downstairs. "Miguel, my mother told me what you said to her." Miguel looked sort of puzzled at first, but then he actualized what Kay was talking about. "Miguel, thanks for making my 18th birthday; the best birthday I have ever had!" "Why is that Kay?" Miguel asked. Kay smiled, and told him, " As of today, I have you!! I've always wanted this to happen. My dearest desire has come true today on my birthday! Could this day get any better?"

Back to the Main Passions Fan Fiction Page

Back to the Main Passions Page
---
---
Buy Soap Magazines
Go here for great news & scoops, photos and in-depth articles!
Soap Opera Digest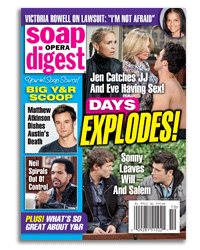 ---
---