PLEASE CLICK TO DONATE TO OUR SITE!!!!
Passions Fan Fiction
---
Chance by Jenn
Prologue
"Damn this car!" Kay Bennett screamed at the top of her lungs. It was January in Harmony. January meant snow and lots of it! It was the first major storm of the season and Kay couldn't get her car to start. She had just been at the grocery store picking up some food in case the roads were too bad to go out later.
"Mom, stop yelling!" Kay's 9 year old daughter Marissa yelled from the back seat. She knew from past experience that her mom was not a fun person when she was aggravated.
Marissa was a product of Miguel and Kay's one time experience with each other. They had both got caught up in the heat of passion and had a child to show from it. Miguel had left Harmony when Marissa was 5. He wanted to pursue other things - mainly other women - at least that's what Kay thought. Yes Kay had been upset but there was never really any love between Miguel and her. Miguel was Marissa's father and Kay made sure that Marissa knew about him and visited him at least once a year.
"I'm sorry honey. I'm just so mad at this piece of junk. As soon as my raise comes through I promise will get rid of this old clunker." Kay put the key in the ignition again and gave it a turn. Still nothing. Then there was a knock on the car window. Kay jumped in her seat. She rolled the window down to see who it was.
"Hi ma'am. I've been watching you try to start your car for sometime now. Can I help you?"
He sure is cute - Kay thought. "Sure. I'll take any help I can get. I'm Kay, Kay Bennett."
"Nicholas, but they call me Fox." Fox switched places with Kay and tweaked with the car but even he couldn't get it started.
"I'll tell you what, come and let me buy you a coffee and we'll call the tow car company to come get your car, and then I'll drive you home."
"Are you sure? I don't want to be much trouble. I mean it's not just me. It's my daughter too."
"Daughter? Well where is she? I bet she's just as pretty as her mother."
Kay couldn't help but blush. But then again this Fox guy doesn't know I'm not married so why is he hitting on me?
"Marissa sweetie. This is Mr?" Kay had never gotten his last name.
"Just call me Fox. It's a pleasure to meet you Marissa." Fox replied.
"You too"
"Marissa, I'm gonna take you and your mom to the Book Cafe for some hot chocolate and coffee. Sound good?" Fox asked while bending down to be at Marissa's eye level.
"It sounds great. It's cold out here."
Back to the Main Passions Fan Fiction Page
Back to the Main Passions Page
---
---
Buy Soap Magazines
Go here for great news & scoops, photos and in-depth articles!
Soap Opera Digest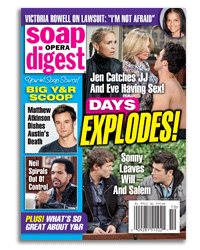 ---
---