PLEASE CLICK TO DONATE TO OUR SITE!!!!
Passions Fan Fiction
---
Chance by Jenn
Chapter Four
She did it. Kay talked about the Cranes through the entire dinner and Fox never tried to stop her. Kay had planned on Fox telling her that he was a Crane by the time dinner was over, but he didn't. He dropped her off and didn't say a thing. Now Kay was mad.
Fox had called twice today, but Kay didn't answer. He left her messages saying he wanted to go out with her again. I tortured him last night. Why would he want to go out again? He's a liar. I don't want to go out with someone who can't even tell me who he really is.
Marissa was going to her Aunt Jessica's house today to play with her cousin Lauren. Kay was looking forward to having some time to herself. Some time to think about what happened in the last couple of days. The doorbell rang. Probably Jess. Kay thought as she walked to the door.
"Hi Jess - Oh Fox".
"Kay you haven't been returning my calls" Fox said.
"And?" Kay's hands were on her hips. Fox noticed her body language.
"Did I do something wrong last night?"
"Oh no. Of course not". Her words were soaked in sarcasm.
"Then what is it?"
"Fox, how stupid are you? You know why I'm mad, you know why I haven't called you, and you know why I acted the way I did last night".
"I do?" Fox asked.
"Don't play dumb. From that day in the snow you've lied to both me and my daughter".
Fox didn't say much. He stood there with a blank look on his face.
"I know you're a Crane Fox". Kay closed the door and went to find Marissa.
"Damnit!" Fox yelled as he punched his fist into Kay's front door. He sped off in his car trying to think of a way to regain Kay's trust.
Back to the Main Passions Fan Fiction Page
Back to the Main Passions Page
---
---
Buy Soap Magazines
Go here for great news & scoops, photos and in-depth articles!
Soap Opera Digest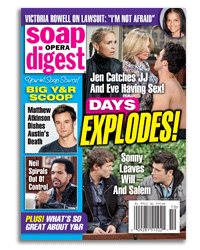 ---
---