PLEASE CLICK TO DONATE TO OUR SITE!!!!
Passions Fan Fiction
---
Chance by Jenn
Chapter Three
Had Kay heard Pilar right? Fox was a Crane. A Crane! That's why he had said Pilar was like a second mother to him. She had probably raised him. What was Kay going to do? Her father had always told her the Cranes were no good. Now she had a date with one. Kay needed to think.
"Yes Fox Crane." Kay agreed. She felt like a fool for not knowing Fox's true identity and didn't want Pilar to know. "Well, I have to go Pilar. I won't be back too late."
"Have fun!" Pilar replied as Kay walked out the door and towards the car.
Kay opened the door, sat down, and started the car. Should she go to the restaurant? What if Fox was planning to tell her the truth tonight? But then again he had never really lied. He just left out
his last name. Kay pulled out of Pilar's driveway and drove towards the restaurant.
She parked her car, but before she got out she needed to decide what to do. Tons of ideas passed through her mind - don't go inside, tell him I know, yell at him, play along..play along? That's what Kay would do. Play along with his lie and make sure he felt like crap for lying.
Kay grabbed her purse and walked inside the restaurant. Sure enough Fox was at the table waiting for her.
"Hi Fox"
"Hi Kay. Let me take your coat." Fox hung up Kay's coat on the back of her chair.
Kay went through the entire meal without mentioning or hinting that she knew the truth about Fox. It was time for desert, the perfect time to make Fox squirm in his seat.
"So Fox, did you hear the latest news about the Cranes?" As soon as "Crane" passed through Kay's lips a nervous look formed in Fox's eyes.
"Uh, news? Can't say that I have."
"Well, Pilar was just telling me how Julian and Ivy's son is back in town." Oh this is great! Kay thought.
Fox was getting more uncomfortable by the minute. Part of Kay felt bad for doing this to him, but she knew he deserved it. Lying is not the way to start off a friendship.
Revenge is sweet. Kay thought trying to hide her smile as Fox struggled to come up with a response.
Back to the Main Passions Fan Fiction Page
Back to the Main Passions Page
---
---
Buy Soap Magazines
Go here for great news & scoops, photos and in-depth articles!
Soap Opera Digest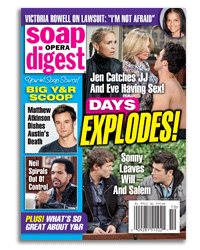 ---
---