PLEASE CLICK TO DONATE TO OUR SITE!!!!
Passions Fan Fiction
---
Chance by Jenn
Chapter Two
What am I gonna do? Fox didn't want to lie to Kay. After all they just met, did he really wanna ruin the start of their friendship?
"Earth to Fox! Hello? How do you know Pilar?" Kay asked. Fox seemed to have spaced out.
"Huh? What? Oh Pilar, well..I..I use to hang out with Luis and his brothers at the Youth Center so I always saw Pilar." Damn that was good. Thank god for those letters Pilar sent me about her family Fox thought to himself, I really had to lie. I can't tell her I'm a Crane.
"Oh! So you know them all then - Theresa, Miguel, Antonio, Luis, Paloma?" If Pilar let Luis be friends with Fox when Luis was young then Fox can't be that bad Kay thought.
"Sure I do. Kay, I'm sorry but I have to go. The tow truck should be here soon, and I arranged for a cab to come pick you and Marissa up." Fox needed to change the subject fast. "Where is Marissa? I'd like to say goodbye to her."
"She's in the back with Chad I think. I'll tell her you said goodbye."
"Kay, do you want to go out for dinner tomorrow night?" Fox had never been so nervous before. To tell the truth he'd never really asked a girl out. All the girls he met were what his private school friends like to call "Fox's one nighters". Kay would not be a "one nighter". She was too special for that.
"I'd love too." Kay was hoping he'd ask to see her again.
Fox couldn't help but smile, "Great! I'll pick you up at 7:00." Kay wrote her address on a napkin, handed it to Fox, and watched him walk out of the Book Cafe.
Later on the next day...
"Pilar, thank you so much for watching Marissa."
"It's no problem Kay. I enjoy spending time with my granddaughter." Pilar said as she engulfed Marissa into a hug.
"Abuela, do you have any cookies?" Marissa asked.
"Of course! They're in the kitchen." Marissa ran off. "So Kay where are you off to tonight?"
"I'm going out to dinner with this guy I met the other day. Actually, he says he knows you."
"Really? Who is he?" Pilar asked.
"His name is Fox."
"Fox Crane? I haven't seen that boy in years!"
Kay couldn't believe what she just heard. Fox, a Crane?
Back to the Main Passions Fan Fiction Page
Back to the Main Passions Page
---
---
Buy Soap Magazines
Go here for great news & scoops, photos and in-depth articles!
Soap Opera Digest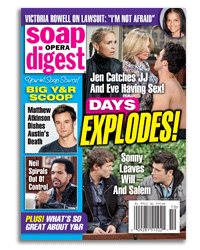 ---
---