PLEASE CLICK TO DONATE TO OUR SITE!!!!
Passions Fan Fiction
---
Chance by Jenn
Chapter One
"Hey Kay, Marissa. What can I get you girls?" Chad asked. Chad had married Simone after a huge fallout with Whitney. It turns out that Whitney was off sleeping with another man. Chad and Simone bought the Book Cafe from Beth shortly before she was admitted to the mental institution. Now the two ran it together.
"Actually, I'll be buying for these two lovely ladies" Fox came and sat down. "The name's Fox"
"Hi Fox. I'm Chad. Nice to meet you."
"So Marissa, what do you want?" Fox asked. Kay could tell that he must have had some experience with kids. He had such a gentle and loving nature.
"I want the biggest hot chocolate you have Chad. With whipped cream!"
"Kay, what can I get for you?" Chad asked.
"I'll have the usual Chad..Cafe Mocha"
"I'll have the same as her" Fox replied.
Boy this guy sure is quick - Kay thought. I've known him for 20 minutes and he's already ordering the same thing as me.
"So Fox, tell me about yourself"
"Not a lot to tell. I just got back to Harmony last week. I grew up here."
"Then I'm sure you know my family. The Bennett's? My father is Chief of Police and my mother owns Grace's B&B" Fox had never heard of Grace's B&B but he sure did know Sam Bennett. He knew Sam so well, but he wouldn't tell Kay that now. He needed to get to know her first - figure out how her mind works.
"I vaguely remember a B&B being in this town" Fox lied. "But that was so many years ago. Tell me about you Kay and your little girl Marissa here" Fox looked over to see Marissa sitting at the coffee bar talking to Chad and drinking her hot cocoa.
"Marissa is 9 years old, and the two of us are basically on our own. It's been that way for about 5 years now"
"Well you two seem to be doing just fine. I don't want to butt into your personal life seeing how I just met you and all, but did you divorce Marissa's father?" Fox was afraid that me might have gone too far. Maybe Kay didn't want to talk about it.
"Oh no Fox" Kay let out a small giggle. "We were never married. It was never true love. Just a one night fling and we were blessed with Marissa"
Fox had to try hard to hide his happy feeling of relief. Kay wasn't married! This meant that he could go in for the kill and score big with her.
"Oh well I'm sorry to hear things didn't work out for you two, but you seem to be okay with it?"
"Of course I am. Miguel is a good guy. Marissa knows all about him and the two of them stay in touch"
"Was Miguel from around here?" Fox asked trying to keep up the conversation.
"Yes, we grew up together. Now he's moved to New York. Have you ever heard of the Lopez-Fitzgerald's?" Kay figured that if Fox grew up in Harmony he may have heard of Miguel's family.
"The Lopez-Fitzgerald's? Pilar was like a second mother to me!" Fox exclaimed.
"How do you know them so well?" Fox's outburst had intrigued Kay.
Fox paused realizing what he just said. He wasn't ready to tell Kay who he truly was. His true identity always ran women away, and he didn't want that. Something about Kay made him want to forget that he was a Crane.
Back to the Main Passions Fan Fiction Page
Back to the Main Passions Page
---
---
Buy Soap Magazines
Go here for great news & scoops, photos and in-depth articles!
Soap Opera Digest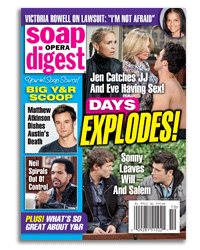 ---
---