PLEASE CLICK TO DONATE TO OUR SITE!!!!
Passions Character Descriptions
---
Rebecca Hotchkiss
Played by Andrea Evans
(Originally played by Maureen McCormick)
Character traits: Golddigger, flirtatious, will use her body to get what she wants, a schemer, and she will do anything to make sure her daughter is happy
Age: 40s - 50s
Marital Status: Divorced, but having an affair with Julian
Relatives: Gwen (daughter) and Ethan (son-in-law)
Profession: Socialite
Friends in Harmony: Used to be friends with Ivy
Hates: Ivy and Theresa
Affairs: During Julian and Ivy's wedding, Rebecca had an affair with Alistair. This was never revealed to anyone in Harmony. It was never mentioned if she was married to Jonathon while she was with Alistair.
Rebecca also had an affair with Julian while she was married to Jonathan. At the time, he was married to Ivy.
Fights: She has gotten into catfights with Pilar over Theresa.
Schemes (All): She never really liked Ivy, so she wanted to take her place as Mrs. Julian Crane. She tried to come up with a scheme to get rid of her. As luck would have it, Ivy kept mentioning Sam in her presence. One day, Ivy slipped up and mentioned how she was worried about Ethan's father. Rebecca knew that it couldn't have been Julian because he was in the mansion with her. Plus, she hated Julian. She finally figured out that Sam was Ethan's father. She didn't have any proof of this so she had to look for it. While she was looking for proof, she found Ivy's locket with Sam and Ethan's picture in it. If that wasn't enough, she saw Theresa's laptop that had the proof she needed: Ivy's letter to Sam was on the computer. The letter said that Sam was Ethan's father.
When she found the information, she wanted to kill two birds with one stone. She hated Theresa just as much as she hated Ivy, if not more. She was the reason her daughter lost her fiancée, and she wanted to help Gwen get Ethan back. She would also get Julian. She could expose Ivy's secret and Theresa would break up with Ethan. She saw this as the perfect opportunity to get back at both of them. She sent the letter that Ivy wrote to Sam to a tabloid newspaper. She used Theresa's laptop to send the information. This plan worked: Ivy's secret was revealed at Ethan and Theresa's engagement. Julian was furious with her, and he wanted to get a divorce. Also, there was a snag in her plan. Theresa was supposed to break up with Ethan when she found out that she wasn't a Crane. Gwen made Rebecca realize that this part of the plan wouldn't have worked because Theresa already knew that he wasn't a Crane and she stayed with him. Now Rebecca had to come up with another plan.
Gwen told Rebecca that she was ready for Theresa to be exposed. It was time to reveal the identity of the person who sent the email to the tabloid. Rebecca told the tabloid reporter that Theresa was the one that sent the letter to the tabloid. The paper would be on the stands the next day but Rebecca wanted an advanced copy to show to Ivy. On the day of Ethan and Theresa's wedding, Rebecca locked Ivy in her room. She wanted her to be the first to see the tabloid. She knew that once Ivy saw it, she would stop the wedding. This plan worked as Ivy did stop the wedding.
After a while, Rebecca found out that Theresa was married to Julian. This kept her from marrying Julian. She made him get an annulment and they eloped shortly after. When Rebecca found out that Theresa was pregnant, this made her marriage to Julian invalid. She had to come up with another plan to get rid of her.
She got her hands on a tape of Ethan shooting Julian. She had someone fix the tape so it looked as if Ethan shot Julian. She let Ivy in on this plan because she also wanted to get rid of Theresa. Ivy didn't want to go along with it at first because she didn't want Ethan to go to prison. Rebecca convinced her that he wouldn't go to prison. She said that Theresa would confess to the murder if she knew Ethan did it. She was right. Theresa did confess and she was executed. However, it was later revealed that Theresa never was executed, so this was another plan that didn't work.
When Theresa accepted her role as Mrs. Julian Crane, she turned into a real Crane and that didn't sit well with Rebecca. Theresa threatened to throw Rebecca out numerous times so she was ready to get rid of her again. She came up with another plan that was supposed to get rid of her for good. She hired a mystery man to dig up some dirt on Theresa. It was a while before she heard from the man again. He finally got in touch with her when Theresa decided to donate the Crane fortune. He demanded one million dollars for the information. She talked Julian into giving the mystery man the money, and they met him at a hotel. At first he was hesitant to give her the information because he had a past with Julian. She flirted with the mystery man to get him to comply. When this didn't work, she finally persuaded him to give them the information. It proved that Theresa wasn't really married to Julian. When he kicked her out, this plan was successful.
Blackmail: She was blackmailed by Alistair to help Julian kill Sheridan. He threatened to kill her if she didn't help Julian.
Rebecca turned into the blackmailer when she blackmailed Julian into marriage. She knew about his plan to kill Sheridan and she was going to use that as a way to get Julian to marry her. She told him that a wife couldn't be forced to testify against her husband so he would be advised to marry her.
Divorced: When Rebecca thought that she was going to marry Julian, she divorced her husband Jonathan. She didn't take any alimony from him because she didn't need his money when she was going to marry a Crane. She got the shock of her life when she realized she was penniless when Theresa was declared the true Mrs. Crane.
Suspect: When Theresa threw a Christmas party at the Crane mansion, Julian was shot. There were plenty of suspects for the shooting, including Rebecca. Her whereabouts were unknown when he was shot. Sam also found a gun on her that had been fired. To save her neck, Rebecca tried to put the blame on everyone else.
Suspicious of Julian: Rebecca believes that Julian is in love with someone or is having an affair with someone. She doesn't have any proof, it was just a feeling.
Suspicious of Theresa: She has been warning Gwen that Theresa is after Ethan again. Gwen is having a difficult pregnancy, and Rebecca thought that if she lost the baby, Ethan may go back to Theresa. She told Gwen to go to California to get away from Theresa. Little does she know, Theresa is also in California.
Special delivery: Rebecca helped Julian deliver Tabitha's baby: they were at Tabitha's house when her waters broke. While helping to deliver the baby, she and Julian wound up in Hell. They saw demons worshipping Tabitha's baby. The demon showed them all the bad things that they had done to people. Of course, when they were back at Tabitha's house, they didn't remember anything.
Proofread by Laura on 6/14/11
Back to the Main Passions Character Descriptions Page
Back to the Main Passions Page
---
---
Buy Soap Magazines
Go here for great news & scoops, photos and in-depth articles!
Soap Opera Digest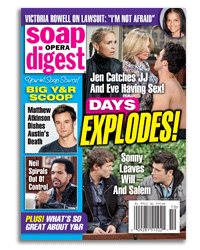 ---
---