PLEASE CLICK TO DONATE TO OUR SITE!!!!
Passions Character Descriptions
---
Katherine Crane
Played by Leigh Taylor-Young
Written by Jessica
Family: Like Alistair, Katherine has a lot of family, so I'll split it up.
Children: Daughter: Sheridan; son: Julian.
Grandchildren: Fancy; other Crane daughter: Endora; Fox; and, sadly, Chad.
Great grandchildren: Miles.
Siblings: Sister Rachel, deceased.
Age: 60s or 70s
Marital Status: Married to the evil Alistair Crane, who tried to rape her earlier in their marriage. She fled and he decided to get to know the other women of Harmony. Then, she pretended to be married to Martin; they were known as Mr. and Mrs. Wheeler.
Character traits: Caring... obviously. When she found out that it was because of her that Sheridan and Luis were having their latest problems, she left, leaving Martin free to be with Pilar. Of course, she did come back, but she was being raped! Nothing's stopping her from leaving other than Alistair now. Annoying... she continued to say how much she wanted Martin and Pilar to get back together but doesn't hesitate to run to Martin.
First love: When Katherine married Alistair, she loved him. As time went, on money changed Alistair and showed Katherine his true colors. She was frightened by him because he continually demanded to make love to her. Eventually, Katherine decided to leave Harmony to get away from Alistair. However, she should have known that there's no way to escape.
Second love: After Katherine left Harmony to hide from Alistair, she went to Mexico with Martin, who was also hiding from the horrible thing he had done and wanted to protect his family. They eventually fell in love and were surprised but delighted to learn that their children had also fallen in love (Sheridan and Luis). Eventually they returned to Harmony and their true identities were revealed.
Past: Katherine married Alistair Crane and had two children: Sheridan and Julian. When Alistair started to rape Katherine, she discovered his true colors and knew that she had to hide from him or she would put her children in danger. Martin also had to flee Harmony for the same reason: to protect his family. They fled to Mexico where they lived for many years. Paloma was sent there to live with her aunt and became friends with the 'Wheelers', as they were known. Although Katherine wasn't really related to Paloma in any way, she treated her like a daughter. They became close and Paloma was shocked but happy to find out that Mr. Wheeler, the man who had been like a father to her, really was her supposed dead papa.
What's new with Katherine: She has just learned the horrible secret of the gazebo, and in order to keep her daughter's secret, Katherine must return to the mansion as Alistair's wife, and Martin must renew his wedding vows to Pilar.
Proofread by Laura on 7/19/11
Back to the Main Passions Character Descriptions Page
Back to the Main Passions Page
---
---
Buy Soap Magazines
Go here for great news & scoops, photos and in-depth articles!
Soap Opera Digest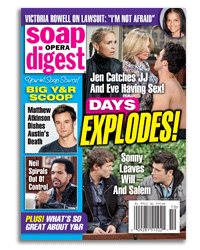 ---
---