PLEASE CLICK TO DONATE TO OUR SITE!!!!
Passions Character Descriptions
---
Nicholas "Foxworth" Crane
Played by Justin Hartley
Temporarily played by Nick Stabile
Character traits: Former playboy and schemer.
Age: Early 20s
Marital Status: Single but currently dating Theresa.
Relatives: Julian (father), Ivy (mother), Alistair (grandfather), Sheridan (aunt), Ethan (half-brother), little Ethan (half-brother) and two sisters that are not shown.
Profession: Former manager of The Blue Note and the Crane Recording Studio; former assistant to Theresa.
Friends in Harmony: Theresa, Whitney, and Chad.
Hates: Ethan, Ivy, and Julian.
Addiction: When he was introduced, he was addicted to gambling. He had a gambling debt that he didn't have the money to pay off. He came to Harmony to get money to pay off the debt.
Meeting Theresa: When he went to his room at the Crane mansion, he was surprised to find Theresa in his room. She didn't know who he was so she started screaming. When Ethan and Gwen came into the room, Ethan fought him. It was dark in the room, so he couldn't tell who Fox was. When the lights were turned on, Ethan realized it was his younger brother.
He eventually became friends with Theresa. He opened up to her about his mother. He told her how she used to treat him. He has been an ear to Theresa when she needed to talk to someone.
Theresa gave Fox a job as her assistant at Crane Industries. Julian didn't want him to work there, but Theresa gave him the job anyway.
Mommie dearest: Fox is upset with Ivy because she ignored him when he was growing up. He felt that she had paid too much attention to Ethan and too little to him. She always made him feel like he was second best compared to Ethan.
Right place, right time: Fox was at the right place at the right time when he saw Julian and Eve together a couple of times. He suspected that Julian had a past with Eve. He also overheard him talking to Alistair about the woman that he loved. Julian was so mad at Fox for accusing him of having a past with Eve that he told him to get out of Harmony. He didn't want to go until he realized that Whitney was going to leave too.
Falling in love: He met Whitney while she was visiting Theresa at Crane Industries. He was attracted to her, but he didn't act on his feelings. He was trying to decide whether or not he would pursue Theresa or Whitney.
Fox met Chad at the recording studio. Chad was talking to him about being in love but Fox didn't believe in it. They decided to go to the Blue Note to celebrate Chad's new job. It was there that he saw Whitney sing for the first time. He fell in love with her instantly.
Anything for love: Fox wants to be with Whitney, so he is trying to find ways to keep her and Chad apart.
Schemes (all): He agreed to work with Liz so they could both get what they want. She knew that he was in love with Whitney and he knows that she has a problem with Eve. He sold the Blue Note to her to help her with her plan.
When Fox, Chad, and Whitney went to California, he talked Vivian into keeping Chad at the recording studio. That way, he could spend time alone with Whitney. He also plans on using Syd to help him get together with Whitney.
Fantasies: Fox has been having fantasies about Whitney.
Misunderstanding: Fox thought that Whitney finally knew that he was in love with her. She kept talking to him as if she knew that she was his mystery woman, but she thought that he was in love with Theresa.
Proofread by Laura on 6/21/11
Back to the Main Passions Character Descriptions Page
Back to the Main Passions Page
---
---
Buy Soap Magazines
Go here for great news & scoops, photos and in-depth articles!
Soap Opera Digest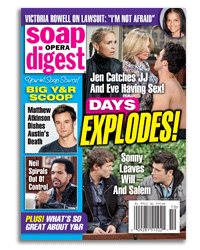 ---
---