PLEASE CLICK TO DONATE TO OUR SITE!!!!
This is just an unofficial fan page, we have no connection to "Passions" or NBC.
PLEASE CLICK TO DONATE TO OUR SITE!!!!
Passions Character Descriptions
---
Eve Russell
Played by Tracey Ross
Written by Jessica
Family: Eve has two daughters: Simone and Whitney, sister Liz, ex-husband T. C., grandson Miles, and son Chad.
Age: Early to Mid 40s.
Big Secrets: Unknown for a while to her family, Eve had once been involved with Julian Crane, when he let her sing at the Blue Note. Singing was her passion, something that she loved to do. She became an alcoholic and a drug addict and eventually conceived a child that was Julian's. Alistair didn't allow Julian to speak to Eve again, and Eve automatically assumed that Julian had found out that she was pregnant and bailed. Her child was put up for adoption and she had no idea who his new 'parents' were or where he was. When Liz first came to Harmony and stayed with Eve and T. C., Eve failed to tell T. C. that Liz was her sister, and Liz threatened to ruin Eve's life with her lies and secrets. It eventually came out and it was revealed that Chad, Eve's daughter Whitney's current boyfriend, was actually her missing child with Julian. It was also eventually revealed that it was Eve behind the wheel when T. C.'s tennis career was ruined, not Julian, as originally believed. She had been drunk and too high to remember and Julian, not wanting Eve's life ruined, said he had been driving the car.
Marital Status: Divorced from T. C. who is preparing to marry Eve's sister Liz.
First Love: Originally, when Eve was just a young teenager, she was involved with Julian Crane. He first saw her when she was singing at the Blue Note and loved her from then on. Once Eve became pregnant with Julian's child, Alistair wouldn't allow Julian to have anything to do with Eve and thus they were broken up. Both still had the memories though Eve's baby was put up for adoption.
When Eve's sister, Liz, came to town and threatened to tell all of Eve's lies and secrets, Eve and Julian began spending more and more time together trying to find their son. The one man who was going to tell them where their son was, ended up being killed by none other than Alistair Crane. After Eve's secrets from her past were revealed, she went back to Julian, which greatly angered Rebecca who was still married to Julian.
Second Love: Eve's second love was T. C., who she eventually married and had two daughters with. They seemed to live a pretty good life: Eve was a respected doctor in Harmony, T. C. was a tennis coach (since he couldn't play tennis himself because of his accident), Whitney was becoming as good as her father had been at tennis, and Simone had a caring boyfriend. Then things changed. Whitney became obsessed with singing, which angered her mother and 'took Chad away' from Simone. Simone began to hate her sister and, soon, all Eve's secrets were out in the open, causing both daughters and T. C. to hate Eve. After some time, Whitney came around and forgave her mother, but whenever something goes wrong in Whitney's life such as her pregnancy, her drinking or with her singing, T.C. blames it on Eve.
Friends: Julian Crane, possibly Sheridan and Luis, Ethan and possibly Gwen. Obviously her daughter Whitney and her son Chad.
Hates: LIZ! If Liz had never come to Harmony, Eve would still be living her life as it had been before... but, then again, if Eve and Julian found out that Chad was their son, how could she have explained that Whitney could never see him again without telling her that Chad was actually her half-brother? She couldn't.
What's new with Eve: Currently, Eve is trying to keep Whitney's secret that Miles, the baby she supposedly had with Fox, is actually Chad's son. Not only is she trying to keep this secret, but she's trying to persuade Whitney to tell the truth so that her life doesn't get as screwed up as badly as Eve's own.
Proofread by Laura on 7/11/11
Back to the Main Passions Character Descriptions Page
Back to the Main Passions Page
---
---
Buy Soap Magazines
Go here for great news & scoops, photos and in-depth articles!
Soap Opera Digest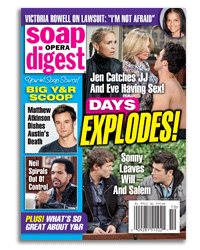 ---
---