PLEASE CLICK TO DONATE TO OUR SITE!!!!
This is just an unofficial fan page, we have no connection to "Passions" or NBC.
PLEASE CLICK TO DONATE TO OUR SITE!!!!
2006 Passions Best Moments
---
This is a weekly list of convenient moments. Have you ever found yourself saying "How Convenient" when something happens on the show? Well, this is a list of all of those moments. They will be moments where you have to suspend disbelief (i.e., all of the pregnant women are suddenly showing when they weren't last night), selective hearing, walking in at the right or wrong moment, selective vision, etc.
2003 | 2004 | 2005 | 2007 | Current Best Moments
Back to the Main Passions Page
---
---
Buy Soap Magazines
Go here for great news & scoops, photos and in-depth articles!
Soap Opera Digest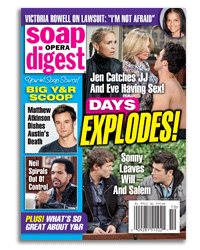 ---
---