PLEASE CLICK TO DONATE TO OUR SITE!!!!
One Life to Live Top Ten List
By Suzanne 11/15/08
Ten Best Things About the Show Right Now
1. Marty being reunited with Cole!
2. Tess gone! Jessica back!
3. Cole and Starr back together!
4. Michael and Marcie back together!
5. Everyone hates Todd again (and he really deserves it)
6. Viki back!
7. David Vickers is returning
8. The Buchanans got BE back!
9. Natalie and her dad reunited!
10. Viki forgave Charlie!
Ten Worst Things About the Show Right Now
1. Marty and Todd sleeping together.
2. Cristian is headed toward romance with boring (and possibly evil) Vanessa.
3. John breaking the law.
4. Blair will probably lose John now.
5. Langston's poor uncle Ray may be an innocent man in prison.
6. Starr and Marcie think their baby died.
7. Jessica and Nash's baby died.
8. Another stupid baby switch storyline.
9. Lindsay still in jail.
10. Tina, Cain and David Vickers (the dog) leaving.
Back to the Main OLTL Top Ten Lists Page
---
Buy Soap Magazines
Go here for great news & scoops, photos and in-depth articles!
Soap Opera Digest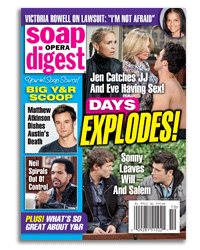 ---