PLEASE CLICK TO DONATE TO OUR SITE!!!!
One Life to Live Top Ten List
Top Ten Things You'll Never Hear Come out of Viki's Mouth:
8/29/04 by Melissa I. Weston

10) "Why won't my kids grow up so I can get on with retirement?"
9) "Jessica, get over it!"
8) "Todd, why won't you just stop stealing other people's faces?"
7) "Clint, these are your kids, deal with them!"
6) "I married Clint, then Ben, maybe I should give Asa a chance."
5) "I don't suffer from Heart Disease, I just have a broken heart."
4) "Dorian better not hit on my other son!"
3) "Maybe I should adopt Kelly so she doesn't lose that stolen baby"
2) "Damn it, Roxie, you could have kept Natalie all to yourself!"
1) "Joe, its time to come back from the dead now...I need some ancient
action!"
Back to the Main OLTL Top Ten Lists Page
---
Buy Soap Magazines
Go here for great news & scoops, photos and in-depth articles!
Soap Opera Digest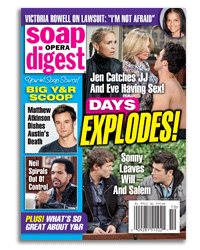 ---