PLEASE CLICK TO DONATE TO OUR SITE!!!!
This is just an unofficial fan page, we have no connection to "One Life to Live" or ABC.
PLEASE CLICK TO DONATE TO OUR SITE!!!!
One Life to Live Top Ten List
Top Ten Stupid Unrealistic Things Done in Llanview Lately
Written 8/31/03 by Suzanne originally for Bella Online
1. University dean covering up a crime and violating students' rights (the college would be wide open for a couple of lawsuits).

2. Bo going to rescue Nora without backup.

3. Everyone constantly traipsing through the police commissioner's office as if it were Grand Central Station, including a suspended police officer and a civilian (Antonio and Jessica), who then made out in there (what do you expect after Walker is able to break in and steal evidence, I guess…)

4. An assistant D.A. doing a sting operation using the police commissioner's girlfriend, and without his knowledge.

5. Four people going completely psycho for little reason, within a couple of months of each other (Mitch, Lindsay, Troy and Keri).

6. Before, Todd's scar couldn't be erased by plastic surgery, but apparently science has made so much progress that he now looks, acts, and sounds like a completely different person (although there is precedent for this on the show, since Patrick London did the same thing in the 80's, when he had plastic surgery to look and sound exactly like Bo, who was a foot shorter…).

7. Rae gets her shrink license back in a shorter time than it took for her to lose it, and she got her friends back even sooner! Except Viki, I guess, since the two have not had a scene together since Rae became a good guy again.

8. Rex, who was too lazy to work in college or get any other kind of job, is now running a nightclub with the full confidence of R.J.

9. Kelly doesn't know she can use *69 to find out who phoned her and then hung up.

10. Marcie's room gets sacked about ten minutes after she hangs up a peace sign, and then she and Al find the Dean on a weekend night (at home?) to tell him about it. Ever heard of phoning the police, or at least the campus police, and then calling the dean during office hours? No wonder he was so ticked off…
Back to the Main OLTL Top Ten Lists Page
---
Buy Soap Magazines
Go here for great news & scoops, photos and in-depth articles!
Soap Opera Digest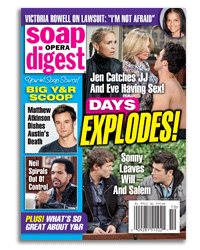 ---